SPORT: SALES SOAR FOR GULLS AS CONNECTION TO PAST PAYS OFF
Soccer Team Gives Naming a Shot; For Hockey, It's Gotta Be Gulls
Originally published November 2, 2017 at midnight, updated November 2, 2017 at midnight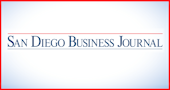 San Diego — Like the Seals, another professional sports organization that is new to the San Diego region has recently undergone a similar naming process.
A new North American Soccer League (NASL) team is slated to start playing in town in March of 2018. The city hasn't had an outdoor pro soccer team since 1984.
Club founder Demba Ba, a professional soccer star, recently announced the club will be known as 1904 Football Club (pronounced as Nineteen O'Four.)
The club said the name, suggested by a local resident, was derived from the city's initials: S is the 19th letter of the alphabet; D is the fourth. Football Club or FC is appended to many European soccer team names. Numbers are also more common than they are in the United States.
Scott Minto, who runs San Diego State University's sports MBA program, said the name — which was met with some confusion locally, as well as references to the movie "Anchorman," which includes a gag about the city being founded in that year (it wasn't) — makes sense in the pro soccer ecosystem.
The club's colors are black and white, and the graphic element in its logo is a telescope. That's intended to reflect its long-term vision for growing the game in San Diego as well as reference the phrase Semper Vigilans, meaning "ever vigilant," which appears on the city seal, the organization said.
League Leader in Merchandise
When the American Hockey League team, then the Norfolk Admirals, relocated to San Diego in 2015, it faced questions over how the team would rebrand. But hockey teams named after the omnipresent seabirds date back decades in San Diego, so the decision to become the Gulls did not come as much of a surprise.
The Gulls' move to stick with the name that resonates in San Diego has been a success, according to the team, which leads the league in merchandise sales.
"We knew we could come to town with some (name) out of the blue, or even stay the Admirals, which is relevant to a Navy town like San Diego, but the more looking we did, we (realized), there's a connection to the name Gulls and versions of the logo in San Diego and you're looking to make an impact on the potential fans and ticket-buyers … you want to embrace what they're comfortable with," said Matt Savant, the team's president of business operations.
The previous Gulls hockey team that played in San Diego — the current team isn't affiliated with any of the prior teams — notched five championships in about 10 years in town.
"I see fans in the crowd wearing their old-school Gulls jerseys, and they're proud to say 'I've been in this building for X (number) of decades watching a Gulls team'," Savant said. "From a sports standpoint, when you're marketing, you're marketing history — that memory of them going as a child with their parents or grandparents, connecting to them playing it or seeing a big win in their past, so we have to take that all into consideration, and that historic connection was so important here in San Diego."