BIOTECH: CO. AMASSES DATA, TURNING IT INTO ACTIONABLE INFORMATION
ResMed Makes Profitable Connection With Digital Health
Originally published November 2, 2017 at midnight, updated November 2, 2017 at midnight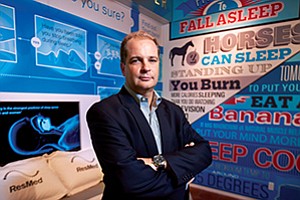 San Diego — ResMed earlier this year hit a milestone, amassing data on 1 billion nights of sleep.
Such data is key in maintaining ResMed's edge, said CEO Mick Farrell in an interview with the San Diego Business Journal on the heels of an earnings announcement.
The San Diego company makes devices that help with diagnosing and treating sleep-related breathing disorders, like sleep apnea. But increasingly, ResMed's focus is digital health, with devices that wirelessly transmit patient data to the cloud.
On Oct. 26, ResMed in first quarter earnings reported $523.7 million in revenue, a 13 percent year-over-year increase, driven by strong sales of masks, software-as-a-service solutions and devices. The company's stock started the Oct. 23 week at $77.73 and closed at $84.75.
The numbers raise the question: Is this growth sustainable?
"We do think that market share gain is sustainable and ongoing, because it's really linked to our digital health and connected care strategy, where we now have 4 million, 100 percent cloud-connected medical devices on people's bedside tables around the world," Farrell said.
Personalized Plans
Six million patients are actively monitored with the company's AirView software. And the ResMed app myAir, when paired with a ResMed device, allows patients and their physicians to track their sleep therapy, both for compliance and personalized care plans.
It includes a score on how well the patient slept.
Underscoring ResMed's commitment to digital health: its acquisition last year of Brightree, a business management and clinical software company.
ResMed is leveraging its devices to provide cloud-connected medical data, said analyst Joanne Wuensch with BMO Capital Markets in a report on ResMed's first quarter.
"There is momentum in its product launches and cloud-based communication efforts; all in, we view this as a good quarter for ResMed," said Wuensch.
Engineering Team
Farrell said he believes in "productive paranoia" so that ResMed doesn't get too comfortable in the digital space.
"I definitely know competitors are working in this field and trying to catch us," he said. "We're winning right now in the marathon of digital health and connected care versus our competitors. But it's mile one."
He added that ResMed's software engineers, housed on the second and third floor of the company's headquarters in Kearny Mesa, give it an advantage.
The first quarter earnings had additional good news for ResMed: gross margin was 58.4 percent, up from 57.8 percent during the same period last year, which ResMed attributed to improvements in manufacturing and procurement.
The Profits
Income from operations for the quarter was $124.3 million, a 12 percent increase compared with the prior period.
"We got incredible net operating profit growth. And that generates cash flow...that I can reinvest in my business," Farrell said. 
As a negative, selling, general and administrative (SGA) expenses rose to $143.9 million, a 12 percent year-over-year increase. This was due to the company investing in infrastructure and inventory to launch three new masks and a flow generator this quarter, according to Farrell.
Going forward, he said, the goal is to grow revenue at an even greater rate than SGA expenses. He added SGA costs, as percent of revenue, have fallen in recent years.
Beyond technology, Farrell said what's also working in ResMed's favor is the growing recognition of sleep disorders, as well as those increasingly seeking help. For instance, more than 18 million American adults have sleep apnea, according to the National Sleep Foundation.
Diagnosing is one challenge, with another being getting patients to regularly use devices like CPAP (continuous positive airway pressure) masks. But ResMed found in a recently published trial that CPAP adherence rates were 22 percent to 37 percent higher among patients who received individualized messages based on data wirelessly transmitted from CPAP masks.
"That allows us to turn big data into actionable information," Farrell said of such studies.