With a Low Vacancy Rate, Construction Hits a High Point
Originally published November 2, 2017 at midnight, updated November 2, 2017 at midnight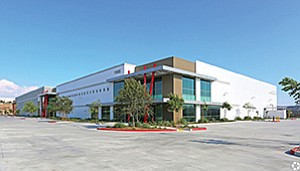 San Diego — Finding available industrial and research and development space in San Diego County can be a challenge, with vacancy rates dropping to an all-time low of 4.5 percent in the third quarter of this year.
Those are among the findings of a report by Colliers International, a brokerage firm.
"Barring any sort of major recession, vacancy, at least for the next few years, is going to stay extremely low," said Christopher Reutz, research director for Collier's San Diego region.
Colliers also is predicting that the number of construction projects finished in 2018 will reach its highest level in 11 years — over 2.1 million square feet.
"In the last two years, we've seen construction pick up, but the nice thing is, it hasn't been over-construction, so that's let the vacancy rate come down slowly," Reutz said. "Prior to the recession, we were building more space than we could absorb. Then the recession hit, and construction activity stopped.
The only things that were getting built were built to suit, which is something with a tenant in mind."
For the past two years, San Diego County's vacancy rate has been consistently between 4.5 percent and 5 percent, but the 4.5 percent of the most recent quarter beat the previous record of 4.9 percent recorded in the fourth quarter of 1997.
"There's definitely a demand out there," Reutz said.
The vacancy rate has stayed low because the last seven quarters have seen a balance between supply and demand, with 2.7 million square feet of net absorption along with 2.1 million square feet of new construction, Colliers reported. Absorption is a measure of how much space is occupied. When it's positive, more people moved in than moved out.
Depending on how much of the new space is occupied in 2018, Colliers predicted that the vacancy rate next year for industrial and research and development properties could fluctuate between 4.5 percent and 5 percent.
Combined industrial/research and development net absorption totaled 522,609 square feet countywide in the third quarter this year.
Demand was positive in most of San Diego's submarkets in the third quarter, with Rancho Bernardo leading the way in net absorption with 219,074 square feet, followed by Sorrento Mesa at 133,905 square feet, Carlsbad at 97,213 square feet, and Poway at 92,485 square feet.
Amazon accounted for much of the growth in Rancho Bernardo, with its 180,946 square-foot building at 16550 Via Spriollo.
In Sorrento Mesa, Presidio Components occupied the 20,000 square-foot building at 10250 Camino Santa Fe, which the company acquired in the second quarter of 2017, and Hologic occupied a 20,433 sublease at 9393 Waples St.
In Carlsbad, Acoustic Ales moved into a 27,457 square foot building on Innovative Way and Room & Board took over a 25,059 square-foot building on Innovative Way.
In Poway, General Atomics occupied a new 82,640 square foot building at 11905 Community Road.
On the down side, Oceanside had a negative net absorption in the quarter of 61,879 square feet, caused in part when CORE Supplemental Technology vacated 28,900 square-feet at 2614-2616 Temple Heights Drive.