Continued Growth Expected in Local Defense Spending
Originally published November 2, 2017 at midnight, updated November 2, 2017 at midnight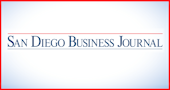 Here's a look at what San Diego companies provide to the Defense Department. This is not an exhaustive list.
• Air combat training electronics
• Aircraft carrier catapults
and arresting gear
• Aircraft logistic services
• Aircraft maintenance training services
• Antennas
• Auxiliary Navy ship construction
• Building construction
• Communications systems
• Cybersecurity goods and services
• Electronic subsystems
• Ground displays for tanks and light armored vehicles
• Littoral Combat Ship simulators
• Microwave radar and
communications assemblies
• Nacelles for jet engines
• Program management
• Sensor systems
• Ship repair services
• Software
• Software-defined radios
• Unmanned aircraft, autonomous and remotely piloted
San Diego — Pentagon spending in San Diego County rose 3...