Arcturus Therapeutics Receives $3 Million
Wednesday, May 31, 2017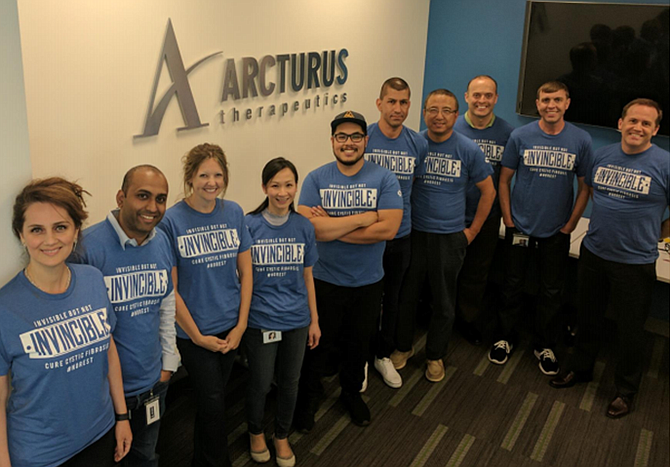 Arcturus Therapeutics Inc., a fast-growing biotech startup in San Diego, has received $3 million to fund research for its cystic fibrosis drug program.
The company, founded in 2013, has previously raised $50 million to fuel the company's research. About $37 million of that was in research grants and other "non-dilutive" funding, and another $13 million was in equity deals from investors, said Arcturus spokesperson Neda Safarzadeh.
The new capital comes from the Cystic Fibrosis Foundation as part of a two-year agreement between the two organizations. Safarzadeh would not disclose whether the foundation is acquiring any rights to the drug or any other details of the deal.
Cystic fibrosis (CF) is a genetic disorder caused by mutations in the gene that cause buildup of heavy mucus in the lungs and other organs resulting in a variety of health issues — especially difficulties breathing and lung infections. There is no cure, but Arcturus faces some competition in the field of CF drugs.
Boston-based Vertex Pharmaceuticals, for example, has a drug called ivacaftor (brand name Kalydeco), which was approved to treat CF patients who have certain genetic mutations. Earlier this month, the U.S. Food and Drug Administration expanded the drug's approval to cover 33 mutations.
Arcturus is developing RNA medicines intended to prevent specific gene mutations from producing disease-causing proteins. Arcturus says its technology can be used to make all types of drugs that target RNA.
Company President and CEO Joseph Payne said the drug "has the potential to treat all CF patients – more than 1,700 different genetic variations of the disease."
The company has grown from 2 employees in 2013 to 50 employees today, Safarzadeh said.