Tech Startup BLOOM Partners With London-Based Manufacturer
Tuesday, May 30, 2017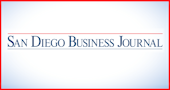 Solana Beach-based tech startup BLOOM, which uses algae harvested from lakes and other freshwater sources to make flexible foam for consumer and industrial products, has partnered with a London-based shoe manufacturer to develop shoes made from the sustainable material.
The shoe maker, VIVOBAREFOOT, said last week that the shoes - which will be added to the company's Ultra line, which it describes as the "ultimate amphibious adventure" shoes - will be sold online starting in July.
Making one pair of the shoes in men's size 42 (about size 9 in the U.S.) returns 57 gallons of clean water to habitat and removes about 40 balloons worth of carbon dioxide from the atmosphere, according to the companies' measurements. (BLOOM's method of harvesting algae returns clean water, from which the algae has been strained, back to the body of water from which it was extracted. Algae, like other plants, absorb carbon dioxide as the organisms grow.)
"This is a true revolution for the footwear industry with the first plant-based alternative to the petro-foams in ubiquitous use," said Galahad Clark, founder of VIVOBAREFOOT, which is the first company to use BLOOM's algae-based foam to make full shoes.
BLOOM materials have previously been used to make traction pads for surfboards through a collaboration with Carlsbad-based company Firewire Surfboards and Slater Designs, pro surfer Kelly Slater's surfboard company.