GIVING: GROUP ESTABLISHES ACTIVE ROLE FOR DONORS IN PROCESS
New JCF CEO Takes Entrepreneurial Approach To Philanthropy
Originally published May 25, 2017 at 2:27 p.m., updated May 25, 2017 at 2:27 p.m.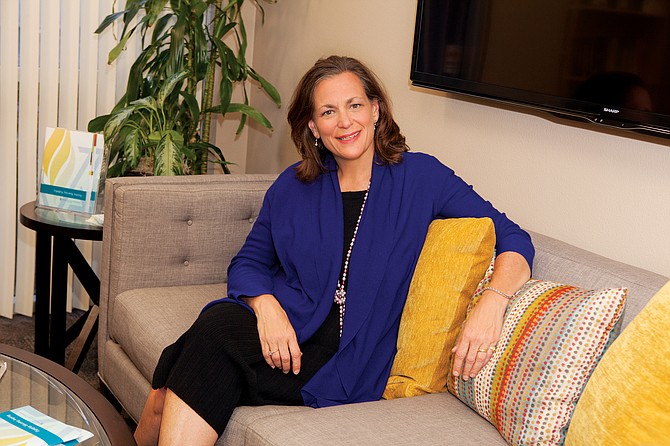 JEWISH COMMUNITY FOUNDATION
CEO: Beth Sirull
Financial information: The foundation's donors have granted more than $1 billion since the organization's founding in 1967, including $112 million in the 2016 fiscal year. It has an annual operating budget of about $3 million
No. of local employees: 17
What makes the foundation innovative: The foundation strives to be forward-thinking in legacy giving, youth philanthropy, and impact vesting
When firm was founded: 1967
San Diego — Beth Sirull, CEO of the nonprofit Jewish Community Foundation of San Diego, is bringing new fundraising strategies to the post she assumed in March.
"Over the next several years, we will be taking a more entrepreneurial approach to philanthropy," said Sirull, who came to the foundation from Pacific Community Ventures, a San Francisco nonprofit that creates jobs in low-income communities. "We will be introducing impact investing through our impact investing pool."
Impact investing is done with the intention of creating positive social impact alongside financial return, she explained.

"I am really out in the next year to raise our visibility and introduce innovative approaches to philanthropy," she said. "That sets the stage for engaging the next generation."
Community foundations are tax-exempt, nonprofit organizations. Working with individuals, families, businesses, and nonprofits, they help philanthropists create or support charitable funds that issue grants to causes and organizations. They also carry out legacy giving plans.
The goal of the Jewish Community Foundation is to promote philanthropy through partnerships with donors and community organizations. Sirull, who holds an MBA and a master's degree in public policy, said she wants to enable foundation donors to use all of the tools at their disposal to affect social change.
She noted that the organization this year will celebrate its 50th anniversary.
"We want to acknowledge the many people in San Diego who have helped build the organization," she said.
Creating a 'Vibrant Community'
About 70 percent of donations through the foundation have gone to secular organizations, she said. The foundation works hard to make sure that donations have the greatest impact possible when it comes to benefiting the community, she added.
"We manage the money and consult with donors to ensure that their donations are as impactful as they can be for the issues they care about, but the donor decides how the donation is made," Sirull said.
"For the most part, our donors are Jewish," she continued. "Their philanthropy is aligned with Jewish values, which include maintaining a vibrant community. They care about San Diego and the world as a whole, and their giving is aligned that way."
Leo Spiegel, a member of the foundation's governing board, said the primary way the foundation earns income isreceiving fees for managing assets. It also consults with donors to manage the process of vetting prospective grantees.
To make sure that each donation counts, the foundation does careful research.

"We do a lot of research into organizations: what they do, how they do it, and what their track record is," Sirull said. "We share that with donors. They decide what is important to them. We take donors on site visits to really kick the tires of an organization.
The foundation teaches young people how to evaluate nonprofits, she said.
"That is solid training in effective philanthropy they get to take with them for the rest of their lives," Sirull said.
Spiegel said Sirull was recruited in a national search to become the foundation's CEO. She replaces retired CEO Marjory Kaplan.
Sirull "is a great leader, very smart, a really passionate person," Spiegel said. "We felt she was a great cultural fit. She understands the needs of nonprofits and donors.
Generational Change
"We manage a large sum of money for the community," he continued. "We need to continue to provide value. We created a program called ELI (the Endowment Leadership Institute) that helps nonprofits work with supporters and donors to create legacy gifts. We have been known as an innovator in that space."
Foundation board member Emily Einhorn said Sirull will bring a new level of sophistication to the organization when it comes to creating opportunities for philanthropy and working with younger donors.
"I think you are seeing a generational change, with younger people very much interested in seeing where their philanthropic dollars go," she said.
In November, CNBC reported that over the next several decades baby boomers will pass on an estimated $30 trillion to their children and grandchildren. Finding ways to connect with the inheritors of this wealth is important to the entire philanthropic community, said Kathlyn Mead, president and CEO of The San Diego Foundation. She said that young adults are "civically engaged, community minded, and philanthropic."