MEDIA: ONE AMERICA NEWS EMERGES NATIONALLY FROM LOW-COST ROOTS
A Lean Approach To News
Originally published May 25, 2017 at 1:32 p.m., updated May 25, 2017 at 1:32 p.m.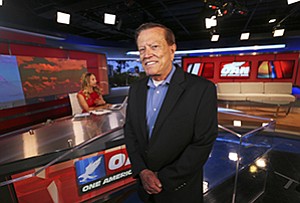 San Diego — Robert Herring Sr. is a man on a mission.
"What's the breaking news?" he asked on a recent weekday as he ushered guests into a cozy, darkened room adjacent to One America News Network's television studio floor where a handful of young men sat monitoring a series of televised news feeds.
The 76-year-old head of Herring Networks Inc., the San Diego-based company behind the conservative One America News (OAN) cable network and its sister network, A Wealth of Entertainment (AWE), is a lifelong self-described news junkie.
Now, in his second career, he's among those vying to shake up the news landscape with his upstart network — and a recent deal has more than doubled his networks' viewership.
The networks last month joined AT&T's DirecTV programming lineup, an agreement that increased viewership from about 15 million people to more than 30 million, according to Herring's son, Charles Herring, president of the family business.
"It provides a national footprint for us," he said.
Wealth TV
Herring, the company's CEO, launched Wealth TV, a forerunner of AWE, in 2004. Even then the channel had a couple hours of news among its shows about expensive cars, international travel spots and other accoutrements of affluence.
Formerly a maker of printed circuit boards, Herring sold Herco Technology Corp. and a major supplier to that business, Synthane Taylor, in 2000 for $122 million.
He entered retirement. In his first post-work years, he went to Russia, met his third wife and had another child. But by 2004 he was itching to set right a deficit he saw in the news business — a missing politically "center to center right" link between the right-wing Fox News and its left-wing brethren such as MSNBC. He started with the lifestyle channel, then began preparing to launch a network focused solely on news.
The network's branding was showily nationalist, from the name, One America, to its flag and eagle logo, to the launch date: July 4, 2013.
Live news programming is broadcast nearly around the clock; two popular political talk shows round out the lineup. The network also broadcasts sporadic deep-dive reports on topics readers of conservative websites such as The Drudge Report and Breitbart would find familiar, such as the 2012 attacks on U.S. government facilities in Benghazi, Libya.
Dean Nelson, head of the journalism program at Point Loma Nazarene University, said he views One America News as a player in a long line of politically-motivated news outlets dating back to the early days of the Republic. Then, political parties would sponsor their own newspapers to spread their message.
"They're trying to make some money — that's first and foremost — then they're trying to interpret the world through a particular point of view," Nelson said. "It's one more niche kind of an effort to report news from a particular point of view."
Right-leaning outlets have learned how to monetize such efforts better than their left-leaning opponents, he noted, citing the failed Air America radio effort launched by progressive interests at about the same time Herring got his first channel on the air.
Doesn't Like Advertising
Prior to the DirecTV deal, OAN and AWE were carried on more than 50 cable systems of varying sizes. Selling advertising didn't make much sense. Even now that the network will be carried nationally, Herring isn't planning to ramp up ads to boost revenue.
"I don't like advertising," he said. The company makes its money though subscription fees from the systems that carry its shows.
His company is profitable, he says, though he declined to reveal its revenue. A large part of that is due to limiting labor expenses. The network relies heavily on paid interns, many recruited from local universities such as Point Loma Nazarene. (It's easier to find students there with conservative political views than at other San Diego-based universities, Herring says.) Most of its full-time employees are fresh out of college with little experience in television.
Nelson said he is glad that his students interested in the television business have a locally-based network at which they can learn the ropes.
Charles Herring said its young reporters aren't allowed to veer off-script or express their opinion during newscasts.
"We try to move along from story to story and let the viewer decide," he said, likening the programming to CNN when it first started out. "We really don't want opinion."
The company subscribes to feeds from wire services such as the Associated Press and Reuters, which allow it to report on news from around the world, and gets pool reports from the White House press corps. Trey Yingst is the network's White House correspondent.
Taking a Stance, Sometimes
OAN's longer, documentary-style segments, however, do take a stance.
A recent special explored what the network called the "dark side" of the White Helmets, a humanitarian group in Syria. Another, aired this month, repeated conspiracy theories about the killing of former Democratic National Committee staffer Seth Rich. (Shortly after OAN aired its segment, Fox News retracted a similar report on Rich, saying it had not met the network's editorial standards for reporting.) Herring, the CEO, recently announced a $100,000 reward for the arrest and conviction of Rich's killer.
He believes the network's efforts have the possibility of achieving tangible results.
"I hate war," Herring said in a recent interview, talking about the impetus for the segment on Syria. He doesn't say that lightly: that conviction convinced him to vote for then-Democratic candidate Barack Obama in 2008.
"We got into a war in Iraq that we shouldn't have and we're now in a war we shouldn't be in; we shouldn't be bombing Syria," he said. He doesn't trust the mainstream narrative about the complex conflicts roiling the country, and is eager for more fresh reporting that could uncover unknown angles.
Herring, who has donated to candidates of both major political parties in the past, today has a red Make America Great Again hat within reach of his desk in his Morena Boulevard office. His Twitter feed praises President Donald Trump.
Through Twitter, Herring has also extended invitations to cable news host Bill O'Reilly, who was forced out at Fox News last month over sexual harassment allegations, to host a talk show on OAN. He has also extended an invite to conservative pundit Tomi Lehren, formerly of The Blaze who cut her teeth at OAN with a show called "On Point with Tomi Lehren." (Lehren and The Blaze cut ties this year after she revealed pro-choice views on another TV show.)
Hiring Writers
Today, Herring's biggest business challenge is finding more writers to hire. In addition to the San Diego office, OAN has studios in Washington, D.C. and in New York, but the main work takes place in an office building east of I-5 in Bay Ho. Clairemont. The walls are hung with amusingly bad Chinese knockoffs of famous paintings including Edvard Munch's "The Scream," plus a poster from the cult film "The Shawshank Redemption;" Herring said a producer on that movie wrote some content for the network around the time it launched.
Herring said he would prefer to move the network to Texas, but his family wants to stay in San Diego. OAN's D.C. studio is being rebuilt at the moment and he hopes one day to move away from the network's small New York studio into a building of its own, having recently been inspired by Fox News' setup in that city.
"I don't quite have the money that Rupert Murdoch has," he said, laughing, "but I can do more with less than anybody in the world."