TECH: HEADQUARTERS CHANGE SAID TO BE PART OF EXPANSION
Boston-Bound iBoss Still Committed to S.D.
Originally published May 25, 2017 at 1:47 p.m., updated May 25, 2017 at 1:47 p.m.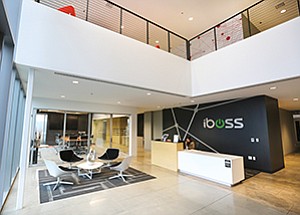 San Diego — Massachusetts Gov. Charlie Baker reported a big accomplishment for his administration recently: iboss Inc., San Diego's fast-growing cybersecurity company reportedly valued at $500 million, named Boston its headquarters office.
The news struck a dissonant chord in San Diego, which has a history of losing companies on their way to becoming giants.
San Diegans need not worry, iboss co-founder Peter Martini said in an interview May 23. iboss will continue its commitment to this community, he said.
Iboss offers cybersecurity services through what it calls the industry's first distributed gateway platform. It's disruptive technology, the business said earlier this spring. Iboss offers its software as a service, charging a regular subscription fee.
Boston Talent Pool
By Martini's account, the decision to name Boston as company headquarters was driven by several things, including the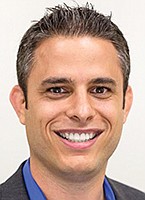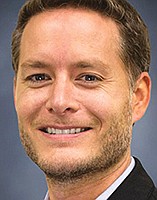 company's board. The board has several East Coast members. Peter Martini and brother Paul Martini founded iboss in 2003 and were sole owners until Goldman Sachs Private Capital invested $35 million in late 2015.
Another reason iboss is expanding in Boston, company officials said, is an abundance of talent there.
Paul Martini, the company's CEO, will be based in Boston.
But Peter Martini, the company's president, said there will not be a migration to Boston. He will stay in San Diego, as will the chief information officer and the CFO, the operations team, the finance team, as well as shipping and receiving.
"Nothing's changing," he said. "We're just expanding."
At the time of the Goldman Sachs investment, Peter Martini reportedly told TechCrunch writer Lucas Matney that the company was valued at upward of $500 million. A company representative declined comment on the valuation.
In the same article, Martini predicted an IPO by late 2017.
In April 2015, Martini told the San Diego Economic Development Corp. that iboss' goal was "to be the next billion-dollar cybersecurity enterprise in our region."
Hiring Plans for 200
Massachusetts offered no tax incentive to relocate, Peter Martini said in the recent interview. Iboss does receive tax credits in California through the California Competes program, he said.
Iboss opened a new San Diego building in 2015 with much fanfare. It occupies 43,000 square feet at the former SAIC data center on Campus Point Court near University Towne Center. The company famously fought City Hall to install a Silicon Valley touch — a twisting, tubular slide that can take workers from an upper floor to the ground floor. The building is not yet full.
Iboss had 145 full-time employees in San Diego as of Oct. 1, according to the Book of Lists, up from 98 in 2015. Iboss says it plans to expand in San Diego and is always looking for skilled engineers, sales, finance and operations people. The business said in a news release that it plans to hire nearly 200, and that it is planning to grow its staff to more than 400.
The privately held business does not disclose revenue.
The Boston office has been established for about a year. The business has several other offices, including Irvine; Orlando, Fla.; and Manila.
Community Reactions
Technology industry leaders had varied reactions to the latest announcement.
Kevin Carroll, executive director of the Tech San Diego nonprofit, said he's discussed the Boston news with several associates.
"I'm very heartened by what I've been hearing," Carroll said, adding that he sees iboss officials "going out of their way to maintain a robust community presence."
He added: "Some companies have not been as thoughtful as iboss."
Darin Andersen, the person behind the xHive incubator and chairman of the CyberTech professional organization, said that San Diego is "really great" when it comes to growing a company from a garage to a startup. When midsized companies experiencing "hyper" growth need to fill a lot of management positions, however, "it appears that our bench is a little bit thin."
Companies such as iboss need to build up technical and business leadership at speed, he said.
"They see kind of a two-front opportunity, one on the East Coast, one on the West Coast."
The ServiceNow Precedent
"I hope they continue to grow here," said Rory Moore, CEO of the EvoNexus incubators in San Diego and Irvine.
Moore said he was sorry to see another company, ServiceNow Inc., move its headquarters from San Diego to the Bay Area — then grow by leaps and bounds. ServiceNow was founded in 2004 and left in 2013. By 2016, the business had annual revenue of $1.39 billion. It had 4,801 employees as of Dec. 31.
California is the "gold standard" for cybersecurity, Moore added.
Iboss takes part in several local business organizations.
"We're excited to see a San Diego company expanding," said Ken Slaght, co-chair and president of San Diego's Cyber Center of Excellence, in a statement by email. "Iboss is still very active in CCOE and our mission to grow San Diego's cyber economy and position it as a hub for cyber innovation."
Insecurities?
Baker, the Massachusetts governor, joined CEO Paul Martini in announcing the Boston headquarters and expansion on May 17. The business's new headquarters building, located a short distance from Boston Common and Boston Harbor, has 19,000 usable square feet out of 23,000.
It could be that San Diego media types are reading too much into the announcement about the Boston headquarters. In some ways, San Diego is still a small town, and the region can be a little insecure about its place in the world sometimes.
At the same time, Massachusetts' governor is trumpeting growth in his state. Politicians need to talk up successes. They have to. It keeps them employed.