TP Therapeutics Raises $45 Million in Series C Round
Tuesday, May 23, 2017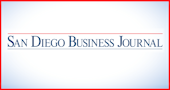 San Diego-based TP Therapeutics Inc., a clinical-stage biopharmaceutical company focusing on addressing oncology drug resistance, announced that it raised $45 million in a Series C financing round.
TP said the round was co-led by Lilly Asia Ventures (LAV), OrbiMed Advisors LLC, and S.R. One Ltd., and was joined by existing investors Cormorant Asset Management and SV Tech Ventures.
According to the TP, proceeds from the financing will be used to fund the continued development of the company's lead program, TPX-0005, for treatment of naïve and resistant patients with ALK, ROS1 or NTRK abnormal genes. The proceeds will also be used to fund the advancement of several pre-clinical pipeline projects.
"We are pleased to partner with TP Therapeutics and support their important work in creating new drugs and new hope for the numerous patients whose cancers have become resistant to initial protein kinase inhibitor drugs," said Dr. Carl Gordon of OrbiMed.
Gordon in conjunction with the financing will be joining TP Therapeutics' board along with Hongbo Lu of LAV and Simeon J. George of S.R.
TP was founded in October of 2013. Dr. Y. Peter Li is chairman, president and CEO of TP Therapeutics.