General Atomics Awarded $195.2 Million Navy Contract
Monday, May 22, 2017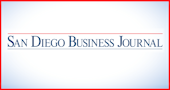 The U.S. Navy awarded General Atomics Electromagnetic Systems a $195.2 million deal to put its advanced arresting gear on the USS Enterprise — the third of the new, Gerald R. Ford-class aircraft carriers.
The Pentagon announced the award on May 18.
The award can be viewed as a vote of confidence for the next-generation system. In July, the Pentagon's inspector general challenged the project as being behind schedule and over budget. The office cited problems in the new system's hardware and software.
The arresting gear stops an aircraft within a few seconds of it touching down on the flight deck. Under the just-awarded contract, the Navy is exercising an option for the manufacture, assembly, inspection, test and checkout of the advanced machinery.
Work under the contract is expected to be complete by 2027.
Roughly half of the work will be performed in San Diego and a very small percentage (less than $1 million) will be performed in Chula Vista. The Navy obligated $4 million of funds at the time of the award.
The deal also covers installation and checkout spares, repairs, technical data and drawing changes.
NAVAIR, the Naval Air Systems Command at Patuxent River, Md., awarded the contract.
Initial steel structures for the Enterprise's hull are going together in Newport News, Va. under an initial, $25.5 Navy contract awarded in February to Huntington Ingalls Industries (NYSE: HII). No date has yet been set for the Enterprise's launch. The shipyard laid the keel of its predecessor, the USS John F. Kennedy, in the summer of 2015.
GA-EMS is building a related electromagnetic launch catapult for the Ford-class carriers. The Navy awarded a $533 million deal for the Enterprise's catapult in January. Recently President Trump criticized the system in remarks to Time Magazine, saying he preferred the current generation of steam catapult.