TECH: BOTS COULD REDUCE LABOR COSTS
Hotels Make Room For Robots on Staff
Originally published May 18, 2017 at 1:51 p.m., updated May 18, 2017 at 1:51 p.m.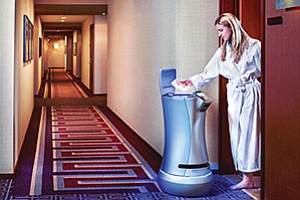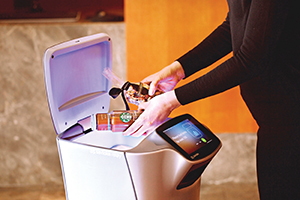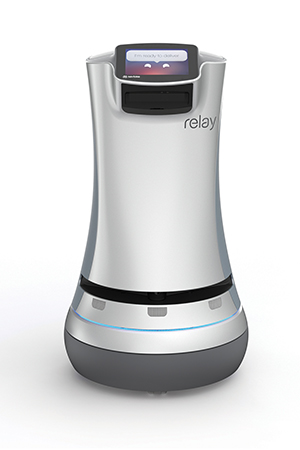 San Diego — Forgot to bring toothpaste? Need an extra towel? Craving a snack?
Relay will take care of you.
That's the name of the 3-foot-tall service robot resembling "Star Wars"' R2-D2 that is serving guests at the newly opened Fairfield Inn & Suites in San Marcos.
Co-developed with locally based Sea Breeze Properties, the San Marcos hotel is the first in the San Diego region using fully autonomous robots developed by San Jose-headquartered Savioke.
Using specialized sensors, geo-positioning and other intelligent on-board technologies, the robots are programmed by Savioke to deliver items to any and all locations of a hotel, freeing up front-desk and other personnel to focus on their other responsibilities.
The technology could have a profound impact on the labor-intensive hotel industry. In addition to working 24/7, Relay is fairly fast and user-friendly, and doesn't call in sick or ask for vacations or pay raises.
"You're going to see this become much more common over the next three to five years in the industry," said property owner Robert Rauch, CEO of San Diego's RAR Hospitality Inc. and a longtime lodging industry consultant. "It is one effective way to deal with rising labor costs."
$2,000 a Month
Rauch said his company, which employs about 30 people in San Marcos, leases one Relay to serve the new 116-room Fairfield Inn, at a cost of $2,000 per month under a three-year agreement with Savioke. He will be gauging its effectiveness in coming months before deciding whether to deploy the robot at other hotels that his company owns and manages.
But he added there are already signs that the major global hotel companies are itching to begin using the autonomous technology, which could soon become standard equipment globally.
Rauch noted that Hilton Worldwide is expected to begin its first significant pilot programs before the end of 2017, and will be followed soon after by Marriott International and the Starwood Hotels & Resorts brands that Marriott acquired last year, including Sheraton and W.
Many tech providers are gearing up to serve the hospitality and food service industries. In addition to the four-year-old Savioke, those include larger, longer-established players such as U.K.-based Starship Technologies and the Japanese electronics giant Panasonic Corp.
Convenience Factor
Reporting the results of its nationwide lodging industry technology study last spring, the news publication Hospitality Technology noted that 54 percent of hotels planned to spend more on technology during 2016 than in the prior year. The biggest priorities for technology spending, in order, were payment security, guest-room tech, internet service bandwidth, and mobile engagement with customers.
Rauch noted that mobile engagement includes helping customers avoid check-in lines by using their mobile devices for check-in, similar to what's already being done with air travel, with the device also holding the digitized room key card.
He said the convenience factor is also driving the use of hotel service robots, especially as millennial-age customers — and older consumers with a tech-oriented "millennial mindset" — expect technology to be seamlessly integrated into their stays.
Expanding Menu of Services
Pacing ahead of similar autonomous applications like flying drones and self-driving road vehicles — where commercial uses still await safety, security and other clearances — service robots this year are gaining traction in the hospitality sector, particularly in the realm of food delivery.
For instance, in several major U.S. cities — though not yet San Diego — the food delivery service DoorDash recently began limited use of self-guided robots, which actually look like picnic coolers on wheels, to deliver meals to customers in urban neighborhoods who have already paid in advance for their food.
DoorDash uses technology from Starship Technologies, which also recently snagged some limited-test business from Postmates, a San Francisco-based document courier service.
In urban centers, the wheeled couriers primarily traverse sidewalks and are often accompanied by human minders to ensure they reach their intended destinations. In a closed hotel setting, robots like Relay don't need minders and are basically on their own once they're sent off by front-desk or kitchen personnel.
Adrian Canoso, Savioke's head of product and design, said the company has been able to work out many of the potential pitfalls that a robot could encounter in a typical workday, over the course of more than 100,000 room deliveries completed at about two dozen U.S. client hotels over the past three years. (There is also one hotel in Singapore using a Relay robot, with 30 more hotels in the process of installing them.)
Except for small components installed in elevator systems to help them communicate with Relay, Canoso said all of the required technology is located on the robot and programmed in advance by Savioke.
The company says its systems are easily scalable, with one robot able to efficiently serve hotels of up to 200 to 400 rooms, and no further infrastructure is needed as robots are added to serve larger properties.
Room number and other destination information are programmed via an on-board screen, and the robot's current location can be tracked by hotel personnel via a web-based platform. "We knew that to be hirable, Relay would need to be able to interact in a very simple way with all types of employees in different operations in a hotel," Canoso said.
He said many hotels have found the technology especially helpful during late-night shifts when the workforce is generally smaller and front-desk personnel, for security and time-use purposes, cannot be pulled away from their stations to run service errands.
Those factors have also attracted nonhotel clients. Savioke officials note that Relay is now operational in a high-rise apartment building in Beverly Hills, and there are seven of its robots now in use at a FedEx electronics repair facility. Savioke will soon be announcing more installations in other logistics centers, retail stores, and elder care facilities.
Making the Delivery
Standing at 3 feet tall, with a smile on its screen, the Relay robot was designed to appear especially friendly to hotel guests — most of whom have likely never seen a service robot in any setting — and easily accommodating to small children and guests using wheelchairs.
After being loaded and sent off from its charging station, Canoso said, Relay goes directly to the room requesting items — most often things like towels, toothpaste, coffee from the hotel's on-site cafe, or sandwiches and other grab-and-go items from a property's convenience market.
Arriving at the destination, the robot calls the phone number of the guest room and gives a friendly greeting announcing that it's waiting at the door with the goods. Relay's sensors are programmed to open its on-board compartment when the room door opens.
After retrieving items, the hotel guest can use the robot's on-board screen to confirm delivery, request other items and provide other types of feedback about the hotel or its overall service. When Relay registers the posting of a "5" rating for hotel experience — on a scale of 1 to 5 — its pre-programmed "dance" moves kick in.
"The dance is a combination of shimmies, shakes and twists, with some 'woo-woos' thrown in," Canoso said.