5 San Diego Zip Codes Make List of State's Priciest
Thursday, May 18, 2017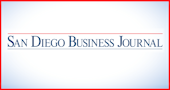 A section of San Diego's Rancho Santa Fe community has been ranked California's seventh priciest zip code for real estate, according to a list compiled by PropertyShark, a real estate data provider.
Santa Monica topped the list with a median sale price for a home of $3.4 million in 2016. The median in Rancho Santa Fe's 92067 zip code was $2.3 million, according to PropertyShark data.
The next San Diego zip code to make an appearance on the list was the Coronado zip code 92118, which appeared at No. 25 with a median sale price last year just shy of $1.45 million.
Del Mar's 92014 zip code appeared two spots later, at No. 27. The ritzy community's median sale price in 2016 was nearly $1.4 million.
Cardiff-by-the-Sea, which is part of Encinitas but has its own zip code, 92007, appeared at No. 37. La Jolla rounded out the list at No. 45. Those communities had median sales prices of about $1.18 million and $1.08 million in 2016, respectively.
Real estate tracker CoreLogic reported last month that the median home price for a San Diego County residence had reached $515,000 in March, a 10-year high and 7.7 percent year-over-year increase.