These 4 San Diego Business Segments Are Bullish
Wednesday, May 17, 2017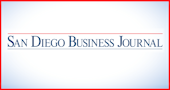 Business people in San Diego remain optimistic about the economy, according to the latest report from the San Diego Regional Chamber of Commerce, which regularly fields responses from about 200 randomly selected members of San Diego-area chambers of commerce to get a picture of the local business forecast.
The Silvergate Bank-sponsored report, published Monday, is based on information gathered in mid-April. The range of the index is -100 to 100; zero is considered a neutral outlook. The latest Business Outlook Index was 24, nearly unchanged from the previous month when it was 23.7.
Of respondents, those from four local business segments made long-term gains in their industry outlook, according to the report.
They are:
transportation/automotive

financial services

hospitality/restaurants

development/construction
The survey also revealed that medium and large-size firms, with 10 or more employees, felt generally more optimistic than small-size businesses.
Geography also made a difference when it came to business optimism: Among respondents from coastal communities, the index rose to 47, nearly double the countywide version.
More than half of respondents this quarter, 52 percent, said they expected their industry would improve, compared to 44 percent one year ago. Over the same year the percentage of respondents who said they believed their industry was set to worsen decreased from 12 percent to 6 percent.
Still, the secondary topic of study selected for the chamber's latest report, the newly passed state gas tax, was a source of concern for a big chunk of local business people. A total of 60 percent of those surveyed said they oppose the tax hike, with 51 percent saying they oppose it strongly. Supporters made up 23 percent of San Diego business people who responded to the survey, according to the chamber.