SDSU Disengages from Talks on SoccerCity Project
Wednesday, May 17, 2017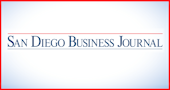 San Diego State University has disengaged from talks on the proposed SoccerCity development in Mission Valley, a move that developers of the mixed-use project contend could negatively impact the university's football program.
In a May 16 statement, university officials said SDSU was unable to reach "a fair, equitable deal" with developers for the university's potential use of a proposed new stadium for Aztec football games and other college sports events, on the current site of Qualcomm Stadium. The soccer or potential multi-use stadium is part a larger, privately financed mixed-use development proposed by a group known as Goal SD, which includes La Jolla-based FS Investors.
SDSU officials noted that during recent attempts by Mayor Kevin Faulconer to facilitate a deal on behalf of the university and developers, SDSU reiterated an offer to purchase the Mission Valley land and provide the university's fair share of infrastructure costs, "but still no agreement could be reached."
Officials said while SDSU's current campus footprint of 238 acres is sufficient to support the university's aspirations for the short term, it has articulated needs for more space over the next 50 years. The university in recent weeks has expressed its intent to lead its own project efforts related to potential re-use of the Qualcomm Stadium site, and has not signed on to any specific developer's proposal.
"With these concerns and motivations in mind, SDSU will not engage in any further discussions with FS Investors," the statement said. "We urge the City of San Diego to pursue a transparent (request for proposals) process to develop a plan that will accomplish the community's vision for this vital property, and serve the San Diego region for decades to come."
Another factor is that the university is in the midst of a leadership change, with President Elliot Hirshman set to leave the post at the end of June to become president of Stevenson University in Maryland. His successor at SDSU is expected to be named this summer.
Goal SD recently collected and submitted more than 100,000 voter signatures, which are currently being certified, and the SoccerCity project will likely be placed on the November ballot by San Diego City Council. The university's stance regarding SoccerCity could deal a setback to proponents, who had hoped to have the university as well as the mayor on board for civic support of the coming ballot measure.
"It's another sad chapter in the saga of departing university leadership moving the goal posts," said Nick Stone, project manager of Goal SD, in a statement also issued on May 16. "Unbelievably, they continue to walk away from people trying to help them. It's clear this decision will jeopardize Aztec football."
"Despite this announcement, we stand ready to work with new leaders at SDSU to support the long-term goals of an institution we care about deeply," Stone said.