GA-ASI, Northrop Receive Pentagon Contracts
Tuesday, May 16, 2017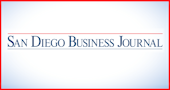 Two major producers of unmanned military aircraft received contracts collectively worth approximately $700 million early this week. The Pentagon announced the two contract wins on May 16.
General Atomics Aeronautical Systems Inc. of Poway received a $400 million order for 36 MQ-9 Reaper aircraft, to be built for the U.S. Air Force. Work on the aircraft will keep GA-ASI's production line busy through August 2020.
Northrop Grumman Corp. received a $304 million contract modification from the U.S. Navy to buy three MQ-4C Triton unmanned aircraft and associated equipment. Work will continue through April 2021.
The Reaper is a large version of the Predator aircraft that the Air Force uses for intelligence, surveillance and reconnaissance, as well as to deliver bombs and missiles.
General Atomics Aeronautical, part of privately held General Atomics, will build the Reaper aircraft to 2016 specifications, the Pentagon announcement said. All work will be done in Poway. The award is a sole-source acquisition, and the Air Force is obligating funds from the fiscal 2016 budget.
The Air Force Life Cycle Management Center at Wright-Patterson Air Force Base in Ohio awarded the contract to GA-ASI.
Northrop Grumman (NYSE: NOC) assembles the Tritons at Air Force Plant 42 in Palmdale, but it manages the program in Rancho Bernardo. Some 43 percent of contract funds will flow to San Diego, the Pentagon announcement said.
The Triton is a seagoing reconnaissance aircraft. The Naval Air Systems Command (aka NAVAIR) in Patuxent River, Md. awarded the contract for the three low-rate initial production aircraft. In addition to the aircraft, Northrop will provide one main operation control station, one forward operation control station, trade studies and tooling.
The Navy is obligating fiscal 2016 and 2017 funds to buy the aircraft.