SOFTWARE: COMPANY TARGETING LIFE SCIENCES AS WELL AS OTHER SECTORS
Nanome Inc.'s 3-D Modeling May Help Shape Solutions, Save Lives
Originally published May 15, 2017 at 9:38 a.m., updated May 15, 2017 at 9:38 a.m.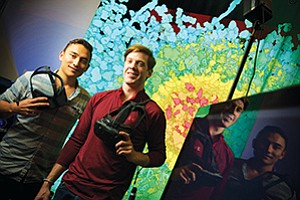 NANOME INC.
CEO: Steve McCloskey
Revenue: Undisclosed
No. of local employees: Eight full time
Investors: Seed investors include Taner Halicioglu
Headquarters: UC San Diego campus
Year founded: 2015
What makes the company innovative: Nanome software produces 3-D models of atoms as well as mathematical graphs
San Diego — One minute I'm at UC San Diego, on the second floor of an engineering building.
The next I'm taking a dive through a virus.
It's amazing where virtual reality might take you.
I am at the headquarters of Nanome Inc., a groundbreaking company housed in the Qualcomm Institute innovation space in Atkinson Hall. I've been instructed to put on my Oculus Rift headset as if I'm putting on a baseball cap, and to put a plastic controller in each hand, taking care where I put my fingers.
A set of virtual reality goggles can take you places, but you can't go far without software. That's where Nanome comes in.
Nano One
The company offers a molecular visualization and modeling tool called Nano One, which I am using.
I am actually diving through the multicolored layers of a 3-D model of the human immunodeficiency virus. Yes, HIV is a fearful thing. But here the structure is beautiful and complex. To help people who don't normally have to navigate through viruses, it's also color-coded.
My guide, company COO Keita Funakawa, takes me down a few levels of magnitude, so we are now looking at molecules in midair.
The atoms and bonds are represented by balls and sticks, which remind me of old-school building toys (think of pieces from a Tinkertoy set, floating in front of you as if weightless).
It's time to use the controllers. An operator's left hand goes into a controller slightly clenched, as if it's going into a baseball mitt. There is a similar controller for the right hand. By clenching and releasing, a person can grab the molecule in front of him and manipulate it.
I turn it 45 degrees, then 90 degrees. The user can turn the molecule over to get a better view of its structure. A savvy user could search for chinks in the molecule's armor. The software could be used to help drug design.
An operator can also call up a computer keyboard that seems to float magically among the atoms, to give other commands.
Potential for Many Applications
This particular software is optimized for the life sciences. A user can call up proteins from UC San Diego's protein data bank. Edgardo Leija, a company co-founder, said Nanome can optimize the software for other disciplines by loading appropriate libraries of data. Nano One has potential to help chemical engineers, semiconductor designers and battery designers, he said.
Nanome has a second software product called Calcflow. It generates advanced mathematical diagrams in 3-D.
"Manipulate vectors with your hands, explore vector addition and cross product," say company marketing materials. "See and feel a double integral of a sinusoidal graph in 3-D, a Mobius strip and its normal, and spherical coordinates!"
Following up on a conference call several days later, Nanome executives told me their work was an outgrowth of a virtual reality club created on the UC San Diego campus a few years before.
They also said they were passionate about blockchain, the technology behind cryptocurrency such as Bitcoin. Nanome says it uses blockchain on the back end of its computer programs.
Encouraging Exploration
The business has an open seed round at the moment. Executives wouldn't give me an exact amount but told me that they had raised six figures so far. Investors include Taner Halicioglu, an early Facebook Inc. employee and UC San Diego benefactor.
Sadly, my plunge into the micro world ends too soon. My hosts have to leave to meet someone downtown. I collect my thoughts on a bench outside Atkinson Hall, remembering my final exchange with Funakawa.
It's a great toy, I said.
It's not a toy, the COO said. It's a tool.
He's right. It's certainly nothing frivolous. And it's powerful.
My mind goes back several years to a ride in the fireman's seat of a 4,400-horsepower locomotive on the transcontinental railroad in Nebraska. That was not a toy, either, but its power evoked a sense of wonder.
Good toys and good tools can offer a sense of wonder, encourage exploration, and push you to break boundaries. The people at Nanome seem to be on to something.