Developers Building Opposition to SoccerCity
Originally published May 15, 2017 at 3:14 p.m., updated May 15, 2017 at 3:14 p.m.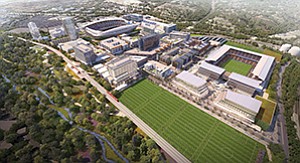 San Diego — Not every high-profile development dispute is simply a clash between developers and residents living near the proposed high-impact project.
In the case of the mixed-use SoccerCity in Mission Valley, the development team led by FS Investors likely will be up against two other big local development companies, with long histories in the San Diego region, if the soccer-centric project goes to voters this fall as expected.
Recent campaign spending disclosures indicate that San Diego's H.G. Fenton Co. and Sudberry Properties have combined to contribute almost $600,000 for a campaign in opposition to SoccerCity. Meanwhile, the project proponent group known as Goal SD as of May 5 had spent about $1.5 million to promote its plan for the current site of Qualcomm Stadium.
FS Investors, led by private equity investment industry veteran Michael Stone, and its fellow proponents known collectively as Goal SD recently announced that they had gathered and submitted more than 100,000 voter signatures (the group needs 71,646 to be certified) for an upcoming ballot measure. The San Diego City Council by this summer is likely to place the SoccerCity plan on the ballot for a November special election.
Fenton and Sudberry have commercial properties all over San Diego County but are particularly visible in Mission Valley. Fenton owns the Costco-anchored Fenton Marketplace retail center off Friars Road, and Sudberry is the master developer of the 230-acre, mixed-use Civita community.
Strong opposition from big developers could only add to an abundance of moving pieces in the puzzle of what happens next with Qualcomm Stadium, following the exit of the NFL's Chargers for Los Angeles. There are at least two other developer concepts that have been put forward for the 166-acre site, and San Diego State University is still mulling whether to hop aboard a developer's plan or spearhead something of its own for a potential new western campus and Aztec football stadium.