OncoSec Medical to Partner With Merck on Clinical Study
Thursday, May 11, 2017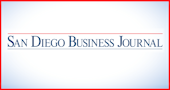 San Diego's OncoSec Medical Inc. has entered a research collaboration with Merck & Co., one of the largest pharmaceutical companies in the world.
The duo is looking to discover if OncoSec's technology will make one of Merck's anti-cancer drugs work better (and for more patients). Specifically, the clinical trial will look at how safe and effective it is to give skin cancer patients a combination treatment using Merck's drug, Keytruda, alongside OncoSec's proprietary technology called ImmunoPulse.
ImmunoPulse uses electricity to zap cancer cells, causing tiny pores to briefly appear in the cell membranes. This "electroporation" allows drugs or compounds to be delivered directly to a tumor site, which then activates a systemic response throughout the entire body.
Under the collaboration agreement, OncoSec will sponsor and fund the study and Merck will provide their drug, Keytruda.
Keytruda, by the way, has had a big week. The cancer drug was approved Wednesday as a first choice for most patients with non-small cell lung cancer when used in combination with chemotherapy. Wall Street analysts estimate that drugs like Keytruda, called checkpoint inhibitors, will reach sales of $30 billion by 2022, with most of the sales going to Merck and Bristol-Myers Squibb.
OncoSec is recruiting patients for the Phase 2 study with Keytruda, specifically looking at people with stage three or four metastatic melanoma who are progressing, or have progressed, on previous treatment with an anti-PD-1 therapy.