Report: SoccerCity Could Generate $1.4B for Roads, Schools
Wednesday, May 10, 2017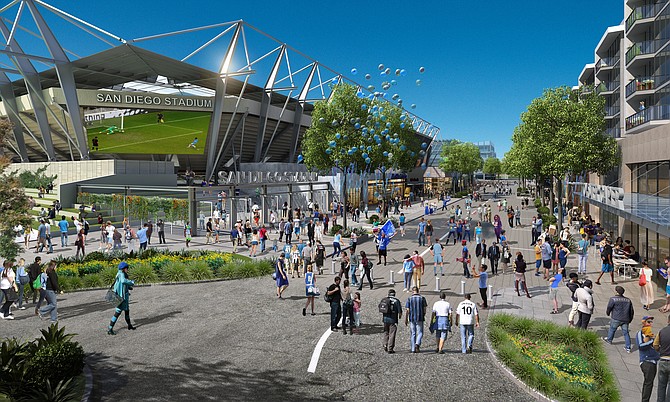 The SoccerCity mixed-use development proposed for Mission Valley could provide $1.4 billion in tax-value-based bonding capacity to build local schools and roads, according to a follow-up study by the San Diego Regional Economic Development Corp. and consulting firm AECOM.
Findings of the study, included in a statement from the SoccerCity development group known as Goal SD, indicate that the project could also generate an additional $21.6 million annual surplus for the city, county and local schools.
"We're going to take the Qualcomm Stadium site – which today is a money loser for the city – and turn it into a revenue generator for the region," said Goal SD Project Manager Nick Stone. "It will provide the city, county and (San Diego Unified) school district with a new revenue stream to enhance vital services to the public."
The release of the study follows project proponents' recent submission of more than 100,000 voter signatures gathered during an initiative campaign. A minimum of 71,646 will need to be certified, after which San Diego City Council by this summer is likely to place the project on the ballot for a November special election.
A March study released by proponents, also conducted by the San Diego Regional EDC and AECOM, estimated the SoccerCity project would generate $2.8 billion in overall economic impact and create nearly 26,000 permanent jobs at full build-out.
The project , which would require two-thirds approval by voters, faces other hurdles including vying with competing developer concepts, and proponents have yet to bring San Diego State University on board for potential future use of the project's stadium and other on-site facilities. Also, an opposing group that includes prominent San Diego developers H.G. Fenton Co. and Sudberry Properties is preparing to campaign against the project if it goes on the ballot.
The privately funded SoccerCity would include a stadium to host a new Major League Soccer team, along with nearby residential, commercial and civic elements, including a river-park open space. The project is spearheaded by an investment group that includes Michael Stone, who heads La Jolla-based FS Investors, former Qualcomm Inc. President Steve Altman, San Diego Padres Managing Partner Peter Seidler, and Juan Carlos Rodriguez, president of Univision Deportes.