Startup Edico Raises $22M; Dell Leads Funding Round
Tuesday, May 9, 2017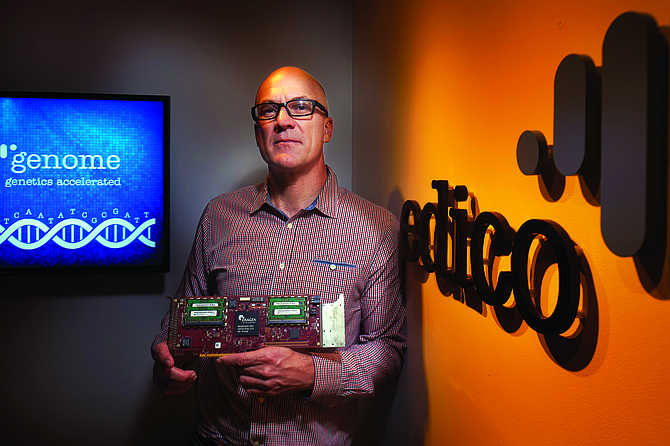 Local startup Edico Genome Inc. has raised $22 million, its biggest round of capital yet, in a Series B financing led by Dell's investment arm, Dell Technologies Capital.
Dell was joined in the round by Qualcomm Ventures, Axon Ventures, and a renowned biotech executive in San Diego, Greg Lucier. All except Dell were previous investors of Edico. The latest round brings the company's total funding to $32 million.
The new cash will fuel engineering and software development, and boost the company's sales and marketing team. The company, which was founded in 2013, will grow from 50 employees to 60 by the end of this year, according to CEO Pieter van Rooyen.
Edico makes a "bio-IT" processor called the Dragen, which is built on a standard computer expansion bus (similar to a graphics card). The product combines software and hardware designed to analyze the massive workloads associated with DNA sequencing. The tech enables the analysis of an entire genome in 22 minutes compared to more than 24 hours using standard software.
The company sells its technology to academic research institutions, clinical labs, and genome sequencing centers. The company says its customers have cumulatively processed more than 12 petabytes of genomic data. To put that in perspective, Edico told Xconomy, "if a byte of data was a single grain of rice, one petabyte would be enough rice to blanket Manhattan."
Over the past couple of years, Edico has established technology partnerships with Dell EMC, Intel Corp., IBM, Amazon Web Services, and others to develop cloud-based services for analyzing and storing genomic data.