Company Changes the Way You Hear the Virtual and the Real World
Friday, May 5, 2017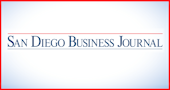 COMHEAR INC.
CEO: Perry Teevens
Revenue: Undisclosed
No. of employees: Eight full-time employees and five contractors, in San Diego and elsewhere
Investors: Undisclosed
Headquarters: Torrey Pines Mesa
Year founded: 2013
What makes the company innovative: Comhear uses patented technology to make it seem like sound is coming from various directions
I am walking across a major street in a San Diego suburb. Behind me, a computer-generated voice (the audio portion of the walk signal) counts down the number of seconds I have left before the light turns yellow. That sound fades while the countdown from the signal in front of me slowly gets louder. Somewhere off to the side, a mockingbird sings.
This is a real-life situation on a sun-drenched afternoon. But in the middle of the street, I realize that this is exactly like the technology from Comhear Inc. that I listened to a couple of days ago.
The San Diego business offers directional audio technology developed at the University of California, San Diego, distributing it under license.
Two days earlier I was in a room at the company on Torrey Pines Mesa. An understated bar-type speaker with a dozen tiny drivers sat on a table in front of me, beneath a video screen. On the screen, computer-generated meteors raced toward me. Without the aid of headphones, it still sounded as if rocks were whooshing past my left ear, then my right.
Comhear CEO Perry Teevens said his company's technology gives users a headphonelike experience, except without the headphones. The technology is able to send a beam of sound to a specific location.
Experiences that people would have had in isolation, under headphones, become shared experiences, said Peter Otto, the company's chief scientist.
The company's time might have come, its executives said. Augmented reality (think "Pokémon Go") and virtual reality are "super hot" at the moment, Teevens said. He said he sees "a rush to get more immersive audio."
"We're mostly a software company," he said — though Comhear offers hardware reference designs to customers who might want to license the company's patents.
Comhear wants to do business in four markets.
• The consumer market would focus on desktop gaming and living room home entertainment.
• The pro audio-visual market would put the technology to work in kiosks and digital signage. Cubic Corp. (NYSE: CUB) is already using the directional sound technology in its rail ticketing kiosks in the United Kingdom, Teevens said.
Of course, there is cinema, theme parks and even sports. The Sacramento Kings installed the technology to offer a courtside experience at Golden 1 Center, he said.
• In the automotive sector, company officials said they want to create "personal sound zones" limiting sound to specific seats in a car. A heads-up audio display is also possible. Teevens said his company is talking to auto manufacturers.
• The fourth market is communications companies. Imagine participating in a conference call where there is a directional microphone at one end of the call. For a person receiving the call, participants would seem to be in different places in the room, Teevens said.
That would be a boon to a former employer, Teevens said. A few years ago, he led business development for Skype.
The core patents in Comhear's device were developed by Otto, who is also a UC San Diego faculty member. The company incubated in the university's CalIT2 engineering space, also known as the Qualcomm Institute, run by Larry Smarr.
Comhear has its own intellectual property that "sits on top" of the university's patents, Teevens said.
Otto said the product leverages low-cost amplifiers, digital signal processing, sound field modeling and inexpensive speaker components. "A lot of things come together," he said.
Comhear has raised $8 million so far, Teevens said. The business is raising a $2 million series A round. "That will give us a runway into next year," he said.
The business plans a Kickstarter campaign in June or July, primarily to build awareness of the product, Otto said.
Consumer products based on Comhear's technology may appear as soon as the fall, a company official said. They might have a price point of $399 to $499. A commercial unit could sell for $600 wholesale.