A Work of Art Changes Hands
Originally published May 4, 2017 at 2:06 p.m., updated May 4, 2017 at 2:06 p.m.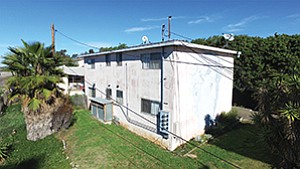 San Diego — The person who painted the exterior walls on an otherwise nondescript Old Town apartment complex off Interstate 5 had artistic ambitions for the project — Michelangelo-sized, to be exact. According to Dylan Wright of ACRE Investment Real Estate Services, who represented the buyer and seller, the five-unit apartment property at 3878-3886 Conde St., featuring a full-wall mural depicting the head of Michelangelo's iconic David statue, was recently acquired by locally based Cazador Old Town LLC for approximately $1.07 million.
The mural was painted in the 1980s by local artist Jeff Sale, and Wright notes that it was fully visible from I-5 for several years before CalTrans put up a barrier that partially obstructed the view. The property was sold by Howard J. Livermore Revocable Trust of San Diego and Patricia Livermore Revocable Trust of Nevada, and had been in the same family since the 1960s.