PROPERTY: FACTORS FAVORABLE FOR SEA CHANGE REDEVELOPMENT
Projects Near SDSU Could Redefine Area
Originally published May 4, 2017 at 1:32 p.m., updated May 4, 2017 at 1:32 p.m.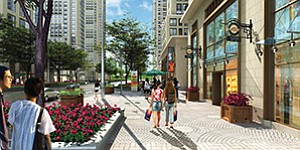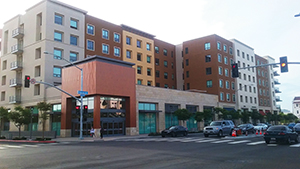 San Diego — The recent opening of San Diego State University's $143 million South Campus Plaza has business owners in the adjacent College Area optimistic that the neighborhood could be next in line for an urban revival.
Spanning two full blocks near the campus's transit center, the mixed-use development now houses more than 600 students, and its ground-floor retail spaces are nearly completely leased. Grocer Trader Joe's is scheduled to open soon as the anchor retail tenant, along with the restaurants Eureka! and Broken Yolk Cafe, among other stores and eateries.
Business leaders including Mike Jenkins, an attorney and College Area resident who is also on the executive board of Civic San Diego, contend that a citywide urban influx by young professionals and families is among the elements now lining up to give the campus-adjacent neighborhood its time in the rejuvenation spotlight.
He and other civic and business leaders are hopeful that the recent completion of the mixed-use plaza, along with other projects on and near the campus, could help bring about something that the mostly commuter campus has lacked for much of its history — the feeling of a pedestrian-friendly "campus town" where students and other residents naturally interact, conduct business or otherwise just enjoy the surroundings.
"You see these campus towns all over the country, in places like Harvard and Berkeley," Jenkins said during a recent tour of the area presented by Civic San Diego and the College Area Business District. "But we've never really had that here in San Diego."
Capitalize on Affordability
Redevelopment progress has been sporadic for many years in the business area adjacent to the SDSU campus, an often traffic-clogged part of the city generally bounded in a triangle-like configuration by College Avenue, Montezuma Road and a long swath of El Cajon Boulevard.
Aiming for a transformation along the lines of what's been seen in recent years in other city neighborhoods, such as Hillcrest and Point Loma's Liberty Station, business leaders seek to capitalize on the university area's young demographics, access to public transit, and business and residential rents and other development costs that are still relatively affordable compared with other parts of the city.
The vision is now being pushed by entities including Civic San Diego and the neighborhood business district; the latter is a 20-year-old 501(c)3 business-improvement organization known formally as the College Area Economic Development Corp. The nonprofit business advocacy group serves approximately 450 business owners and 250 commercial property owners within the district.
Those backers' vision has supporters including SDSU itself. Tom McCarron, the university's CFO and vice president for business and financial affairs, said SDSU currently has extensive improvements underway at its on-campus facilities serving students in engineering and other science-related fields that are vital to the local economy.
Attractive business and residential development near the university could give students more reasons to remain in San Diego during and after their studies — to raise families and continue to create jobs in their own ventures.
"We would like to see more opportunities for our graduates to stay in town," McCarron said.
City Action
To encourage new development, the city has recently put forward incentives including a storefront improvement program, with design and financial assistance for business owners; and new market tax credits, which allow developers of certain qualified, high-impact projects in low-income communities to attract equity investments.
In addition to the university-funded South Campus Plaza, much hope was raised in local business circles by the development of BLVD63, a 332-unit, 1,379-bed student housing community completed in 2014 at 6345 El Cajon Blvd. It was developed by San Francisco-based Carmel Partners.
In November 2016, that development was acquired for $156 million by a Chicago-based subsidiary of TIAA Investment Management. During the recent tour, visitors were shown a resort-style campus with study lounges, a media room and high-tech fitness center, where students have access to a full-time private shuttle to the SDSU campus.
Spurring Improvement
Business district officials said the apparent success of BLVD63, in an area that had long been in decline, has spurred owners of other office buildings and strip shopping centers along El Cajon Boulevard to upgrade their properties. Jim Schneider, executive director of the College Area Business District, pointed to several retail and office properties along El Cajon Boulevard and Montezuma Road where owners are mulling significant renovations and re-purposings of their properties.
While changes will likely be gradual, Jenkins said there are opportunities to develop more new amenities for an otherwise underserved area with a reported residential population of more than 20,000 and an average age of 31.
As more mixed-use residential projects are built on and near the SDSU campus, he said there will be more opportunities to minimize the number of "mini-dorms" — older residential properties offered up as student housing, where noise and other issues often create conflict with longtime permanent residents living nearby. It's an issue that's long impacted "commuter" institutions, but which could be changing near SDSU.
"With new development, you're offering better competition for those mini-dorms," Jenkins said.