New Sensor Improves Global Hawk's Vision
Originally published May 4, 2017 at 2:10 p.m., updated May 4, 2017 at 2:10 p.m.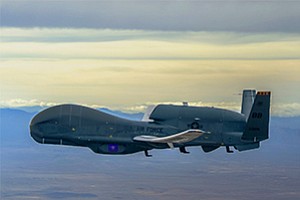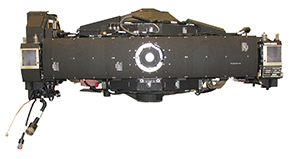 San Diego — Northrop Grumman Corp.'s Global Hawk high-altitude spy aircraft recently made its first flight carrying a UTC Aerospace Systems MS-177 long-range multispectral imaging sensor. The high-tech sensor is a derivative of the powerful camera carried on the U-2 spy aircraft. The test flight, out of Palmdale, was Feb. 8, but UTC kept the wraps on the announcement until mid-April.
Global Hawk is a 16-ton aircraft with a 131-foot wingspan. It can stay in the air for more 32 hours and fly at altitudes of 60,000 feet … maybe higher. The people behind the Global Hawk program work in Northrop Grumman (NYSE: NOC)'s Rancho Bernardo offices. The company builds and maintains aircraft in Palmdale.
UTC Aerospace, part of United Technologies Corp. (NYSE: UTX), said the MS-177 sensor will provide better image resolution over a longer range and greater coverage area per hour than any other ISR sensor in the U.S. military inventory. ISR is military jargon for intelligence, surveillance and reconnaissance.
UTC said Global Hawk will carry an even newer version of the sensor, called MS-177A, in late 2019.
Separately, Northrop Grumman reported first quarter earnings on April 26. Sales in its aerospace systems segment increased 13 percent but that was due mainly to gains in the manned aircraft programs (among other things, Northrop builds the fuselage for the F-35 Lightning II aircraft). Autonomous aircraft sales increased slightly, reflecting more volume for Triton — the U.S. Navy version of the Global Hawk.