Developer Returns to the Challenge of the Big Game
Originally published May 4, 2017 at 1:52 p.m., updated May 4, 2017 at 1:52 p.m.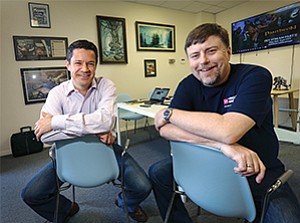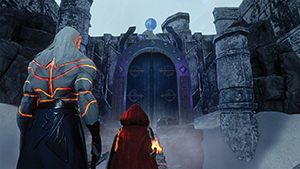 San Diego — Brad McQuaid, a legend among videogamers and a former Sony executive, is building a computer game company in Carlsbad called Visionary Realms Inc.
McQuaid is best known as the man behind the popular computer game "EverQuest," a genre-creating title that predates "World of Warcraft" as the first commercially successful game of its kind.
"EverQuest" was developed back in the 1990s by McQuaid's then-startup Verant Interactive, and published through Sony Online Entertainment. The game grew into one of the largest video game franchises in the world, with Sony later acquiring Verant. Today, more than two decades since the first game's release, the franchise includes over a dozen related games and an active user base.
Although McQuaid was the key designer of "EverQuest," he shares the title of co-creator with John Smedley, the guy recently appointed to lead Amazon Game Studios in San Diego.
'Pantheon'
After a decade-long respite from laborious and meticulously designed games like "EverQuest," McQuaid is returning to the genre with a new project: a game called "Pantheon: Rise of the Fallen."
For this project, McQuaid has joined forces with former venture capitalist Chris Rowan, who is leading Visionary Realms as CEO while McQuaid serves as chief creative officer.
The office of Visionary Realms is what you'd expect from an indie computer game company. The walls are covered in paintings of dragons and enchanted forests, along with framed front-page articles from old gaming magazines. Tabletops are littered with laptops, action figures and little plates of M&Ms.
It's also small, sparse and rather unpopulated. McQuaid said the company employs 20 developers and other employees, but they all work from home.
The team at Visionary Realms is undertaking a huge project in developing Pantheon, a fantasy-themed game so detailed and complex that it will likely take several years to develop (the company hasn't disclosed a release date). The game falls into a genre called "massively multiplayer online role-playing games" or MMORPG.
For nongamers, that means it's a story-driven game played online. Players take on a persona of a character in a fantasy world and interact with a large number of other players.
'Most Wanted'
Just glancing at gaming forums makes it clear that Visionary Realms — and McQuaid himself — has a cult following of near-rabid fans. Along with desperate pleas from fans to "hurry up and publish the game," gaming sites are also ranking Pantheon as highly anticipated. In a survey conducted by a popular gaming website, MMORPG.com, "Pantheon" was voted "Most Wanted MMO of 2017" by a huge margin.
Rowan said the enthusiasm comes from gamers who are disenchanted with big industry games that lack complexity and imagination. The surge in simple and easy mobile games designed for cellphones lowered the bar for game developers, Rowan said, and has left a fan base hungry for something with more meat.
"We have a very passionate audience that is dying for a resurgence of a game like 'Pantheon,'" Rowan said. "There's been a dry spell in the market because things went very casual because of cellphones. People who remember the challenge of older games want that challenge back."
Most games in this category offer a similar gaming experience — the player is held firmly by the hand and led through a series of quests. Quests are easily identifiable by little flags or markers, and the paths to completing the quests are obvious. This makes for easy gameplay, but it eliminates the gamers' wanderlust. Instead of slowing exploring worlds created by the game developers — stumbling upon rare treasures and quests — the gamers move from task to task in an orderly way. It can get boring, especially for seasoned gamers looking for a challenge.
"Pantheon" diverges from that model.
"It's epic, immersive, and challenging," Rowan said.
Talk to the Bot
The game is designed with artificially intelligent characters who wander the game with unique personalities. One may be a coward, who runs at the sight of your sword, while another might run to your aid to fight off an opponent.
Quests are not marked at all, and the gamer may never find them unless they ask character bots just the right question.
"For example, you might stumble upon a woman crying," McQuaid said. "If you choose to stop, what you say to her will determine where you go next."
The model encourages the gamer to infinitely wander worlds, rewarding players who log hours investigating curiosities.
Subscription Model
Long-term gamers will also help the company's bottom line, of course. Visionary Realms plans to launch the game on a monthly subscription model, again diverging form the industry standard of "free-to-play" models.
McQuaid and Rowan would not disclose the games specific pricing model, as it's yet to be developed.
McQuaid's past is full of both great successes and great failures, and it's unclear which category Visionary Realms and "Pantheon" will fall into. After "EverQuest's" great success, McQuaid went on to found Carlsbad-based Sigil Games Online, which published a new game with Sony called "Vanguard: Saga of Heroes" back in 2007. Although much-anticipated, Vanguard flopped with a wider audience, and Sigil's assets were eventually absorbed by Sony. The game didn't do well for a variety of reasons.
"There was a more crowded market, we were pressed on time, and just the very fact that "World of Warcraft" (a competitor game) was there meant that we didn't do as well," McQuaid said.
After "Vanguard's" failure, McQuaid said he took some time to do "soul searching" to better identify the kind of game he wanted to create.
Challenging Genre
"Massively multiplayer games are absolutely the hardest genre of games to make," McQuaid said. "They take the longest, they require the most money, and they require the most tenacity because you have to have the patience to work on the same project for three to five years."
Still, the challenge of the genre called him.
"Every time there's a fork in the road, I end up going down the harder one," McQuaid said.
To help fund Visionary Realms, the startup set up its own crowdfunding page on "Pantheon's" website, and fans have been pledging support in the form of one-time or monthly payments for a few years now.
Fan support carried the company through its first year of development, and then an angel investor contributed a "healthy chunk of money" in 2015. Then, just last month, Visionary Realms closed a Series A round. The recent capital came from wealthy individuals, Rowan said.

Rowan and McQuaid aren't saying how much capital they've raised for the project, but they did say the recent round is enabling the company to hire five more people.
Rowan said the startup needs more capital, a bigger space, and more people to scale.
Creating the World
"Right now, we're working on the mechanics of the game," Rowan said. "Then you have to build the world, and the world is huge. That's where it takes a lot of people. We need people making every rock, tree and character. We can't do that with a small team."
After Visionary Realms closes a Series B round, Rowan said the company plans to expand to 40 people and move to a larger space.