Analytics' Entry Fizzles for Cash-Hungry Startups
Friday, March 31, 2017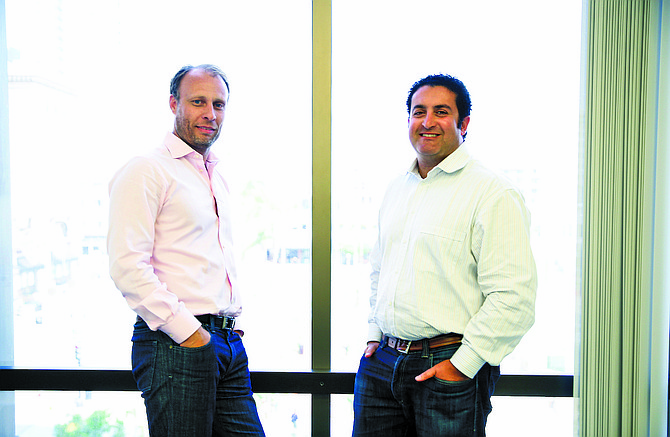 There are very few venture capitalists investing in local tech startups, so when a new fund — Analytics Ventures — opened up shop in downtown San Diego, hopes were high.
Tech entrepreneurs lined up, pitch decks in hand, to ask the new VCs for the cash they needed to grow.
"San Diego is in desperate need for more capital, and we felt this when we announced (the fund)," said Andreas Roell, managing partner at Analytics Ventures. "Within hours, every tech entrepreneur here in town or wanting to move to San Diego approached us. We got flooded. Almost like a cry for help."
San Diego is a city known for its innovation in the science realm, and biotech upstarts have little trouble scoring the capital they need to survive. Of the $1 billion in VC money that streams into San Diego each year, the lion's share is deposited on the Torrey Pines Mesa, where multimillion-dollar biotechs are brewing medicines in labs.
Software startups, however, have far less support.
This is why the local tech community was thrilled to hear that Analytics Ventures, formerly an angel syndicate group, was raising a VC fund and transforming into institutional investors. Finally, they thought, San Diego would have local capital for it software entrepreneurs and an investor with the chops to understand a tech startup's value.
Frustrated Founders
But the VC fund has left the startup community cold. The firm, founded in 2012, set out to raise $25 million, half of which it planned to invest in software startups. But then Analytics Ventures went quiet. As time went on, local entrepreneurs became impatient, as it was unclear if Analytics Ventures had made any progress toward its $25 million goal. Questions started to circulate. Are they really investing? Do they have any money?
Still today, the firm will not disclose how much cash is in the coffers. One source familiar with the company speculated that Analytics Ventures had only managed to close on $5 million. Co-founders Navid Alipour and Blaise Barrelet would not confirm or deny that figure.
Many VC firms declare the size of their fund plainly on their website, so Analytics Ventures' lack of transparency ruffled a few feathers. Several entrepreneurs and leaders in the community said they were confused, and in some cases miffed, by the firm's unwillingness to share its progress.
Adding to their consternation was Analytics Ventures' apparent stagnation. The firm hasn't invested in a local startup in at least two years, with the last investment going to San Diego-based TapHunter.
Founding Startups Vs. Finding Startups
According to Analytics Ventures' founders, that's because their investment model shifted as the fund matured.
"We come from an operator background… building honest, sustainable and innovative companies with our own hands and money," Roell said in an email. "This is our first fund, and we needed to learn (just like a business) how to better communicate our sweet spot."
Their sweet spot, as it turns out, is not investing in existing tech startups. Instead, it's creating the companies themselves.
This model is called a "venture studio," and it's growing in popularity among early-stage investors. In a venture studio, managing partners actually co-found the portfolio companies, taking a high ownership stake (often over 50 percent) and a very active role in the startup's leadership. It reduces risk for the investors, and early-stage investing is a risky game (especially for newbie venture capitalists).
"Don't Come to Us"
Analytics Ventures has eight startups in its portfolio, most recently investing in Tinoro Inc. and AV Lab. Both are in-house ventures the managing partners personally co-founded.
"The traditional VC model is to invest in 20 companies and hope one provides a 20X return," Barrelet said. "But I don't want to spend 95 percent of my time with losers hoping that one of them is going to make it. For us, we'd rather invest in five companies and hope four are going to make it."
And to ensure the company's success, Analytics Ventures has a heavy hand when it comes to leadership. That's not a popular move with existing startups that already have some traction, which is likely why Analytics Ventures avoids them.
"If you're a company that has some revenue and you've raised some money, don't come to us," Alipour said. "We're not trying to take advantage of you. Just don't come to us because our model is different."
Investors Know Best
It's this shift in business model that has local tech entrepreneurs annoyed with Analytics Ventures. The firm launched with plans that 50 percent of its fund would go to existing tech startups. Now, it is only investing in companies co-founded by it. But as Alipour puts it, they were guided to this model from their own investors.
"As we were out talking to our investors, we realized that they were more excited about the venture studio model than anything else," Alipour said. "This was our competitive advantage."
For those unfamiliar with the investment world, venture capitalists like Analytics Ventures have to raise money from "limited partners," or LPs, to fill the coffers of their fund. Once the money is raised, venture capitalists can invest in companies with the hope of providing a return for their LPs. Returns generally come from big exits, like going public, raising additional venture capital, or being acquired.
VCs want to get LPs on board so they have capital to work with, so it makes sense that Analytics Ventures would be led in a less risky direction by their LPs.
Seeking Ideas, Not Companies
Specifically, Analytics Ventures is looking for untapped potential in research institutes, universities, and even large corporations that the team can spin out and commercialize. Their ideal situation would be working with a solo scientist, for example, who's working on research that could be worth some cash if it was properly commercialized.
"We believe that intellectual property and talent is in San Diego; the problem is that it's locked up in businesses or institutions with people who have no experience in entrepreneurship," Roell said in an interview last year.
Alipour said it's ideas — not really existing companies — that truly pique Analytics interest.
"If you have an idea, and you've never started a company… then you should come to us," Alipour said.
Not Alone in VC World
Analytics isn't the only venture studio looking to exploit untapped potential in San Diego. Avalon Ventures, the life science-focused venture firm, does the same thing with its venture studio, COI Pharmaceuticals.
And the model is prolific throughout other startup hubs in California. Up in Los Angeles, one of the most popular venture studio models is IdeaLab, and in San Francisco there's Third Rock Ventures, among others.
And if Analytics Ventures is successful in creating newsworthy tech companies (there's high hopes for CureMetrix and CureMatch), it could put San Diego on the map for other venture capitalists.
Regardless, the venture studio model is unpopular with many in the burgeoning startup scene in San Diego. The feeling is that venture studios prey on newbie entrepreneurs, taking control of their business and exerting excessive control over what they do.
Austin Neudecker, the mentor-in-residence at startup incubator EvoNexus and the co-founder of Startup San Diego, said it would be nice to see local investors come on the scene that are more supportive of San Diego's existing startups.
"The local ecosystem needs more investors and startup veterans that treat startups fairly, believe in the founders, and understand the lean approach to building a scalable company," Neudecker said.