Coding School Offering Free Software Builds for Businesses
Thursday, March 30, 2017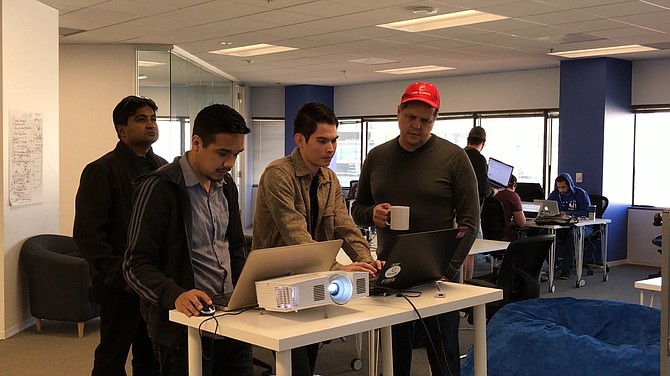 Businesses are pitching students at the downtown software development school, Origin Code Academy, for a chance to get their software or app built for free.
"We can help people with no technical background get off the ground by having our students work with them," said Jeff Winkler, founder and CEO of Origin.
Students at the coding school recently took on four projects for local companies, including building a 'smart' chatbot for local music startup Rock My Run. The chatbot interacts with the Rock My Run's users to keep them motivated to work out based on their habits.
Winkler said the students also built a website with Matt Ferguson, the chief technology officer of fast-growing adtech company, Zeeto.io. The website is for a new venture Ferguson is undertaking, which Winkler described as like "Ebay for real estate." Ferguson serves as an advisor.
Students will present these projects, along with others, at their demo day this Friday, March 31. For those who can't attend, a live stream will be available.
Pitch software project to students
Businesses can pitch Origin students for a chance to get their software or app built for free by attending the academy's next pitch day from 9 a.m. to noon on April 20. The pitch event is held in Origin's classroom at 101 W. Broadway, Suite 1100. For those who cannot attend, companies can send a two- to three-minute YouTube clip pitching their idea.
Winkler said businesses need to include the following in their pitch:
1.) The problem the startup is solving, or (for existing companies) how the software project can help add value to customers
2.) Features the business wants built for an MVP (or added on to existing software)
3.) Preference for coding language(s) used. If preferred, Origin can choose the best technology for the problem
Students will choose whichever project they are most passionate about, with guidance from Origin's leadership, Winkler said.
To be added to Origin's mailing list for reminders of upcoming pitch days, email jeff@origincodeacademy.com.