Jack in the Box, DoorDash Expand Delivery Service
Thursday, March 30, 2017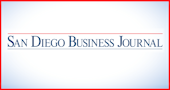 Locally-based restaurant company Jack in the Box Inc. announced the expansion of its partnership with tech-enabled delivery service DoorDash, rolling out an initiative launched last fall in the Bay Area to more than 200 cities including Denver, Houston, Las Vegas, Los Angeles, Phoenix and Seattle.
The San Diego-based company, owner of the Jack in the Box and Qdoba Mexican Eats chains, said in a March 30 news release customers in 14 new markets will be able to have food delivered to their doors as late as 1 a.m., and until 3 a.m. in some places.
The announcement also unveiled a new TV commercial to support the initiative. It features a computer-animated figure losing energy late at night while playing a videogame – until a DoorDash delivery person brings food that reinvigorates the activity.
"We're proud to serve our entire menu, all day, every day – and we wanted to bring that message to life," Jack in the Box's chief marketing officer, Iwona Alter, said in the news release.
Jack in the Box is a fast-casual restaurant company with more than 700 locations in 47 states, Canada and Washington, D.C.
DoorDash, an on-demand delivery service founded in 2013 in San Francisco's South Bay, does business in more than 350 cities in the United States and Canada.