Echo Continues to Impress, Brings In $7.5 Million
Thursday, March 30, 2017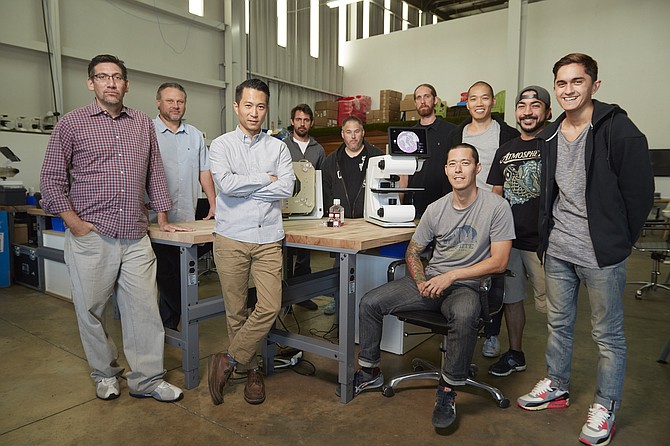 One of San Diego's most popular startups, Echo Laboratories Inc., just scored $7.5 million to boost production of the company's new microscope.
The Series A round was led by San Francisco-based Dolby Family Ventures and Southern California's angel investor group, Tech Coast Angels (TCA).
It's not the first time TCA has handed a check to Echo. It's not even the second time. Back in October, Echo won TCA's annual Quick Pitch competition earning the startup a $15,000 check.
That spotlight won Echo additional meetings with TCA, and the organization ended up leading a $1.8 million seed round for Echo the following month. TCA's executive director, Ashok Kamal, said TCA was impressed with Echo's product and leadership, in particular Echo's founder and CEO, Eugene Cho.
Young, Savvy CEO
"This guy is always organized, always gracious, he knows his market inside and out, he's created a great team around him and a game-changing technology," Kamal said.
Cho and his team designed (and are manufacturing) a piece of scientific equipment called Revolve, a hybrid microscope that combines two of the most commonly used microscopes (the upright and the inverted) into one instrument. Priced competitively to both existing instruments, the Revolve allows scientists a more budget-friendly option by buying one hybrid microscope instead of two standard models.
Echo also incorporated an iPad into the microscope, and a high-end digital camera. "Echo Labs brings advanced usability and 21st century technology to microscopy," said Annie Mak, a member at TCA.
Echo's future products will include a higher-end model with automation designed for those working in biotech and pharma, as well as an entry-level model for students and educators.
In addition to earlier seed rounds, this latest infusion of cash brings the company's total investment capital to $12.5 million.