COMMERCIAL REAL ESTATE | THE LATEST IN REAL ESTATE AND DEVELOPMENT NEWS
SDSU Adds to Wave of Plans for Qualcomm Stadium Site
Originally published March 23, 2017 at 2 p.m., updated March 23, 2017 at 2 p.m.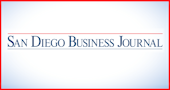 San Diego — Just over two months after the San Diego Chargers said adios, the city is now facing a veritable flood of ideas for what to do with the 166-acre Mission Valley site of the aging Qualcomm Stadium.
Hillcrest Getting Bo-beau, Plus Gourmet Tacos
San Diego's Cohn Restaurant Group is switching out one of its current concepts for another in the Hillcrest neighborhood. The company's University Avenue bistro known as 100 Wines, which closed in fall 2016, will be replaced starting in late April by the company's fourth location of the popular Bo-beau Kitchen.
Operators said the new Hillcrest venue will have an unusual neighbor. Located next-door to Bo-beau will be Libertad, a gourmet taco shop billed by Cohn as "San Diego's first for-charity gourmet taqueria" with an adjoining craft cocktail bar called Cache. Owners David and Lesley Cohn plan to donate all profits from Libertad to local charities.
In Point Loma, the formidable – and primarily local – full-service restaurant lineup at the mixed-use Liberty Station was recently joined by Officine Buona Forchetta. It is a spinoff of the popular and similar-named South Park Italian eatery, operated by founder Matteo Cattaneo and chef Mario Cassineri.
San Diego State University, which has been courted by private developers to join their mixed-use commercial dreams for Mission Valley, recently added to the growing list of possibilities by presenting the city with its own seven-point plan for the stadium site. It initially appears that SDSU is looking to be the driver, not a passenger, in any future stadium plans involving the university.
Long seeking additional space for its growing operations, and needing someplace to host Aztec football games after the 2018 season, SDSU now proposes to purchase or lease, for 99 years, a 12-acre portion of the Mission Valley site for a planned new multi-use stadium; and purchase or lease an additional 35 acres for other future expansion by the university.
Pricing on deals would need to be worked out between the city and university, and the SDSU proposal does not list a cost for the university's future projects. SDSU Athletic Director John David Wicker has estimated that the university could build its own football stadium within three years, at a cost of up to $150 million.
These are among other elements of the plan presented by university officials during a meeting with Mayor Kevin Faulconer:
• SDSU expects that there will be other types of development partners at Mission Valley, and any partner must agree to move forward with design and construction of a multi-use stadium within 90 days of a land transfer. "Failure of partner to participate forfeits any rights in stadium and allows SDSU to move forward with design and construction of multi-use stadium," the plan states.
• Per California State University regulations, the architect of record for design of the multi-use stadium will be selected through a competitive process. The design process will provide for a stadium with up to 35,000 seats in a project that allows for future expansion to 40,000 seats. "SDSU must be granted unilateral ability to expand the stadium to 40,000 seats at any point in the future."
• The city will grant all rights emanating from SDSU sporting events and other collegiate sporting events at Qualcomm Stadium to SDSU and/or the appropriate collegiate event host.
• The parking space count for future development is still to be determined, but at least 50 percent of the spaces required for stadium functions will need to be located directly adjacent to the facility; 25 percent can be located within a two-block radius and the remaining 25 percent may be spread throughout the development. When a full bowl event is scheduled, all spaces on the development site "must be dedicated to stadium events."
For those keeping score, city leaders this year will also likely be reviewing a proposal put forward by a team led by FS Investors, which is seeking to build a mixed-use project called SoccerCity SD with a new stadium to house a Major League Soccer team. That group recently began collecting voter signatures to place the plan before San Diego City Council, which could approve it or put it on a future election ballot.
Also, Manchester Financial Group, led by Douglas Manchester, has proposed a mixed-use development that would include renovating rather replacing Qualcomm Stadium, while also possibly adding a new indoor sports arena to the site. Both FS Investors and Manchester Financial have proposed incorporating university elements, though SDSU has not formally committed previously to any developer plans.