SDSU Seeks to Acquire Land For Its Own Projects at Stadium Site
Wednesday, March 22, 2017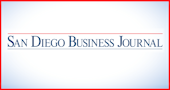 Presenting what is now the third alternative plan for Mission Valley since the departure of the San Diego Chargers, San Diego State University is seeking to acquire 47 acres at the city-owned site of Qualcomm Stadium to build its own stadium and other university facilities.
The university on March 21 presented a seven-point plan to Mayor Kevin Faulconer, as part of a meeting between the mayor and SDSU officials. The university proposes to purchase or lease, for 99 years, a 12-acre portion of the Mission Valley site for a planned new multi-use stadium; and purchase or lease another 35 acres for other future expansion by the university.
Pricing on deals would need to be worked out between the city and university, and the SDSU proposal does not list a cost for the university's future projects. SDSU Athletic Director John David Wicker has estimated that the university could build its own football stadium within three years, at a cost of up to $150 million.
Faulconer met with Wicker, as well as Megan Collins, chief of staff to SDSU President Elliott Hirshman, and former city manager Jack McGrory, a past chair and current member of the Campanile Foundation, the university's fund-raising arm. SDSU's current lease of Qualcomm Stadium for Aztec football games is set to expire after the 2018 season.
"Mayor Faulconer appreciated meeting with San Diego State University to hear their thoughts on Mission Valley," said Jen Lebron, the mayor's press secretary, in an emailed statement. "As a proud Aztec, the Mayor plans to keep an open dialogue with SDSU as well as meet with other stakeholders as he continues to review the initiative."
City leaders this year will also likely be reviewing a proposal for the Mission Valley site put forward by a team led by FS Investors, which is seeking to build a mixed-use project called SoccerCity SD with a new stadium to house a Major League Soccer team. Also, Manchester Financial Group, led by Douglas Manchester, has proposed a mixed-use development that would include renovating rather replacing Qualcomm Stadium, while also possibly adding a new indoor sports arena to the site.
Both of those plans would be privately financed. SoccerCity proponents recently began collecting voter signatures to place their proposal before San Diego City Council. The council could approve the project outright or place it on a future election ballot.
The university is known to be outgrowing its current main campus space off Interstate 8, but has not formally committed to join other developer plans for Mission Valley that included a potential western campus for SDSU. University elements have been proposed in both the FS Investors and Manchester plans, as well as earlier concepts devised by a group that included JMI Realty.