Here's How San Diego Hotels Are Performing in 2017
Tuesday, March 21, 2017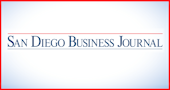 So far, so good.
Total revenue at San Diego County hotels rose 5.7 percent from a year ago in the first two months of 2017, reaching nearly $379.5 million, according to the latest monthly data from industry research firm STR.
Occupancy for the January-February period was up 0.2 percent from the opening months of 2016, at 71.3 percent; and the average daily room rate rose 4.1 percent, to $147.33. Revenue per available room (RevPAR) was up 4.3 percent from a year ago, reaching $105.09.
The region's hotel room-night supply for the two-month period rose 1.3 percent, to just over 3.6 million, while room-night demand (nights booked) increased 1.6 percent, to nearly 2.6 million.
The San Diego market is generally tracking ahead of overall U.S. growth trends on most of the key metrics. STR data indicates that nationwide hotel revenue for January-February rose 4.3 percent from a year ago, topping $20.8 billion.
The U.S. hotel occupancy rate was 57.4 percent, down 0.1 percent; the average daily rate rose 2.4 percent, to $122.02; and RevPar increased 2.4 percent, to $70.08. Nationwide room supply was up 1.9 percent for the two-month period, at 297.6 million, while demand rose 1.8 percent, to 170.9 million.
San Diego hotel metrics have generally been rising for the past five years, buoyed largely by a strong national tourism economy. Local hotels saw total revenue rise 5.3 percent over the prior year in 2016, topping $2.65 billion.