SDG&E Announces Four-Year Pilot Project With Sumitomo Electric
Thursday, March 16, 2017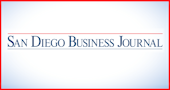 San Diego Gas & Electric Co. said it has agreed to test so-called flow battery technology through a new, four-year pilot project with Sumitomo Electric.
The testing will focus on a 2-megawatt vanadium redox flow battery storage facility capable of powering 1,000 homes for four hours.
Such batteries are expected to last 20 years, and the hope is they will degrade with use more slowly than competing technologies. If the demonstration proves successful, it could increase the viability of solar power and other sources of renewable energy.
"This pilot will advance our understanding of how this flow battery technology can help us increase the reliable delivery of clean energy to our customers and align with state and local carbon emission reduction goals," SDG&E COO Caroline Winn said in a news release.
The arrangement announced March 16 stems from a partnership between Japan's New Energy and Industrial Development Organization and the California Governor's Office of Business and Economic Development.
SDG&E is a publicly regulated utility owned by San Diego-based energy services holding company Sempra Energy. It has installations capable of storage a total of about 100 megawatts of energy.