PROPERTY: NEW PRESIDENT'S SKILLS FIT STRATEGY CHANGE
Real Estate Co. Readies For Coming Wealth Transfer
Originally published March 16, 2017 at 2:26 p.m., updated March 16, 2017 at 2:26 p.m.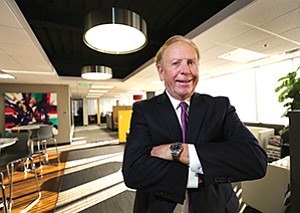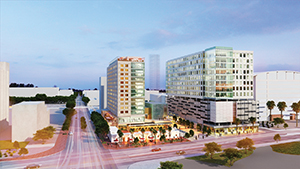 San Diego — Douglas Wilson, the founder and CEO of San Diego's Douglas Wilson Cos., has spent most of his professional life closely tracking the big shifts in real estate and financial trends.
Here's one that's been guiding his business service strategies of late: By various industry estimates, U.S. baby boomers over the next three decades will be at the center of one of the biggest wealth transfers in the nation's history, with around $30 trillion in assets being turned over to their children in the Generation X and millennial age groups.
Much of those assets will be in the form of real estate portfolios that will need to be divvied up, and the disposition of those properties will often come with complications beyond the sibling-rivalry, "Mom liked you best" squabbles that arise in inheritance situations.
For Wilson, who has navigated into multiple service and development realms to match the requirements of up-and-down real estate cycles, the story of the boomers spells rising demand for the types of property valuation, management and other oversight services that have long been in his wheelhouse.
To meet that demand, Wilson said he recently concluded it was time to bring in a seasoned legal professional to serve as his company's president, nearly four years after the retirement of attorney and former banker Robert Richley.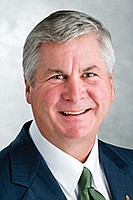 Wilson tapped longtime friend and colleague John Morrell, who will begin work as president effective March 31, as he transitions from his current post as managing partner of the San Diego-based law firm Higgs Fletcher & Mack.
"John has experience in most of the areas we deal with, and he has 20 years of experience growing a good-sized company to where it is now one of the biggest law firms in San Diego," Wilson said.
Demographic-Generated Demand
Traditionally, disposition services — where Wilson and his competitors have worked on behalf of courts, banks, attorneys and other clients to handle properties whose prior owners encountered financial distress — have been in highest demand when the overall economy was in a rough patch or in early recovery mode, most recently in the days following the Great Recession.
But for the foreseeable future, Wilson said, demographic-generated demand for services likely will be there in economic good times and bad.
"We don't want to lose touch with these counter-cyclical aspects of our business," said Wilson, whose downtown-headquartered company was started in 1989. "Whatever the economy is doing, you always want to have work to do."
With the economy in recovery mode during the past few years, diversification for Wilson has meant getting back to his original development roots, when he spearheaded several large projects including downtown's Symphony Towers office complex. He now has projects in early development that include a nearly $200 million mixed-use office and hotel project in downtown Tempe, Ariz.; and currently has under construction a 23-home, single-family development in Chula Vista called Monterey Place, being built with Bennion Deville Homes.
Senior Housing
At age 66, Wilson is also following the boomers into the realm of senior housing and health care, starting work this year on the first of several communities he is planning with Vancouver, Wash.-based developer Milestone Retirement Communities LLC. A development with about 100 residences — a mix of assisted living and memory care units — is scheduled to break ground this spring in Chula Vista's Eastlake neighborhood, and Wilson said the two firms plan to develop a total of six to eight senior housing communities in multiple cities over the next decade or so.
As he kept his presence in all of those service and development areas — aided by executives including Chief Financial Officer Nancy Cook and his son Nicholas Wilson, the chief operating officer — Wilson decided the company would benefit greatly from Morrell's experience and insights.
After two decades as Higgs Fletcher's managing partner, and still relatively young at 57 after 30 years practicing law, Morrell said the new position will allow him to exercise his interests and expertise in areas including commercial property and bankruptcy law, as he continues his affiliation with Higgs Fletcher on special projects and as the law firm's first-ever chairman emeritus.
Community Involvement
In addition to leaving Higgs Fletcher in the capable hands of incoming Managing Partner Steven Cologne, Morrell said the transition will also let him devote more time than previously possible to several community organizations he's long served, including San Diego Rotary Club.
He and Wilson share not only a common resume and membership in similar local organizations, but have also worked professionally over the decades on numerous real estate matters nationwide, so they know up front that they won't clash in terms of leadership.
"There are many times when he's been my client and I've been his client," Morrell said.
Working with Wilson's staff of 14, Morrell will have an oversight role in legal and real estate services based not only in San Diego, but also in the company's regional offices in San Francisco, Las Vegas, Phoenix and Washington, D.C.
The attorney said he shares Wilson's bullish outlook on future demand for property disposition, management and related offerings, especially derived from generational shifts of wealth.
"There's going to be increasing need for those fiduciary services as more of those assets get transferred," he said.
Douglas Wilson Cos.
CEO: Douglas Wilson
Founded: 1989
Headquarters: San Diego (Downtown)
Revenue: Not disclosed
Employees: 14
Company description: Provider of real estate services geared to property disposition, management, development and related areas, with regional offices in San Francisco, Las Vegas, Phoenix and Washington, D.C.