PierCap Partners Relocates to UTC
Thursday, March 16, 2017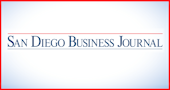 San Diego-based investment bank PierCap Partners has relocated from its office in Del Mar to a bigger space at University Towne Centre.
The firm, which was founded last year and focuses on assisting privately held, family-owned businesses with mergers and acquisitions, is now in Suite 300 at the California Bank & Trust building at 4320 La Jolla Village Drive. (The office was previously used by the CB&T executive team, PierCap said.)
"We continue to be in growth mode and the move underscores our commitment to both our clients and team members," said Zaheer Dhruv, the co-founder and managing director of PierCap.
Dhruv said PierCap moved into the UTC office in January and since then has been "busy setting up the space." The office has the room to accommodate a larger team and an open patio where the firm can host events, he said.