Commercial Real Estate | North County Developers Eye Del Mar for New Resort
Originally published March 16, 2017 at 2:57 p.m., updated March 16, 2017 at 2:57 p.m.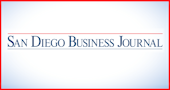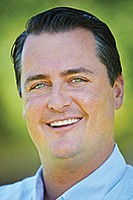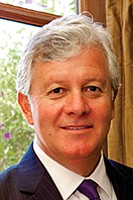 San Diego — Two Encinitas-headquartered development firms, each with a lot already on their project plates, are now teaming on plans for a 16-acre oceanfront luxury resort near Del Mar's beloved "Dog Beach." Tentative plans include branded resort villas, a public park, walking trails, restaurants and meeting spaces.
The Robert Green Co. and Zephyr are both seasoned developers with a track record of building generally well received, high-end luxury properties — Green for upscale hotels and resorts including the recently opened $120 million Pendry San Diego; and Zephyr for residential projects like the $100 million condo development called The Park, now underway in Bankers Hill.
So it's the location, likely not the end product, that will be the key issue as developers make their case to government leaders and residents of Del Mar. The city historically is highly protective of its waterfront spaces, shuns high-density and chain-store development, and in November just narrowly defeated a ballot issue (Measure R) that would have required any project larger than 25,000 square feet to undergo a citywide vote if a zoning change is involved.
This location, off Camino Del Mar near the city's border with Solana Beach, is adjacent to city-owned land spanning four acres of walking paths, starting at North Beach (aka Dog Beach) and ending at a point overlooking that beach and the Del Mar Racetrack. Developers plan to enhance accessibility to the walking trails, and are requesting ideas from the community on the design of a planned city park that will be incorporated into the project.
Robert Green and Zephyr CEO Brad Termini are wisely working with the city to plan for an upcoming public participation process, where the project's scope and design will be figured out, and there could be several years of public negotiations ahead, depending on the outcome of the give-and-take.
This land has sat undeveloped for decades and issues such as traffic, obstruction of views and other impacts of potentially encroaching development will undoubtedly come into play. Just ask the folks at Kilroy Realty, whose mixed-use, non-waterfront One Paseo in next-door Carmel Valley recently broke ground after 10 years of discussion and a significant down-sizing of the original plan.
As this item was being written, it was not known how much Green and Zephyr had riding on the Del Mar project in dollar terms. They are purchasing seven parcels owned by three separate owners, all of whom have executed agreements with the developers. A spokeswoman for the developers said the price of the land and the expected cost of the resort project were not yet being released, and no renderings have been produced.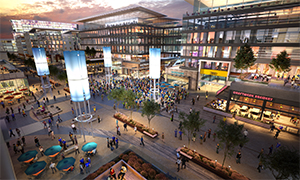 Potential Good News and Bad News for SoccerCity Backers
As they prepared to gather voter signatures for their upcoming initiative, proponents of the mixed-use SoccerCity SD were likely cheered by the recent report, done by consulting firm AECOM for the San Diego Regional Economic Development Corp., estimating that their soccer-centric plan for Mission Valley could have a $2.8 billion annual regional economic impact and generate more than 25,000 jobs.
Return of the Stadium Task Force?
Meanwhile, local architects and designers are among those calling for a timeout, or at least a slowdown of the game pace, when it comes to deliberating the fate of the Qualcomm Stadium site. The San Diego chapter of the American Institute of Architects (AIA), which represents about 800 local design professionals, and the region's Environment + Design Council recently sent a letter to Mayor Kevin Faulconer and City Council members, which was also released to local media.
The groups called on city leaders to conduct a competitive proposal submission process to consider multiple options, including the soccer-centric project. They also want officials to consider appointing a citizen task force, similar to one selected by the mayor two years ago to consider stadium options; or possibly a commission like the one that helped shape plans for the former Naval Training Center, now known as the mixed-use Liberty Station in Point Loma.
"As public land, the long-term best interests of the city and overall benefits to the public must outweigh any attractive short-term economics with its promise of immediate gratification," said the letter, sent by AIA San Diego President Philip Bona and design council Chair Vicki Estrada.
The 2015 stadium task force devised a concept and financing plan that included a refurbished or replaced Qualcomm Stadium, along with adjacent river park elements at the current Mission Valley site. That plan and revised versions from the city were ultimately ignored by the then-San Diego Chargers, which recently left town after voters rejected the team's plan to finance a downtown stadium. The city had a similar stadium task force in 2003, which ultimately wasn't able to cure the Chargers' restlessness.
EDC officials said the concept put forward by a team led by FS Investors, to replace Qualcomm Stadium with multiple components including a 30,000-seat soccer stadium, would create 41,720 jobs during construction and 25,750 jobs when it's in operation. More information on potential fiscal impacts will be forthcoming.
On the flip side, there may have been some nervousness triggered among the developers by the news that San Diego State University President Elliot Hirshman is leaving the university this June after six years in the post, to become president of Stevenson University in Maryland. The university will conduct a national search for his successor.
The FS Investors team had been courting SDSU to participate in its project, possibly by sharing the cost of the stadium, which could potentially be expanded in the plan to be closer to 40,000 seats if the university is on board to play Aztec football games there. The university has not decided on its participation in that project, as well as others put forward previously, including a mixed-used, university-centric concept by an ad-hoc group that includes leaders of JMI Realty and other SDSU alumni.
Also, developer Douglas Manchester has recently touted his own plan that would renovate rather demolish Qualcomm Stadium, while adding a potential indoor sports arena and other commercial and civic elements, and leaving space for an SDSU western campus.
The question now is whether SDSU will be making any decision on Mission Valley while its top administrative position is in transition. The university component could serve as a key civic selling point for anyone going to city officials (or ultimately the voters), but the SoccerCity developers may need to revise their game plan if SDSU is not on board. They are also asking the city to watch the clock, noting that their application to bring a Major League Soccer team to San Diego hinges on being able to deliver an approved stadium in time for play by March 2020.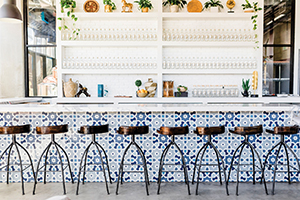 We've Got Spirits — Yes We Do
You & Yours Distilling Co., billed by its operators as "California's first urban destination distillery," recently opened at 1495 G St. in downtown San Diego's East Village, with a tasting room serving up craft gins, vodkas and other spirits and cocktails. Co-founders Laura Johnson and Luke Mahoney teamed on the venture with barmen Chris Frierson and Trevor Bowles, both formerly with Consortium Holdings.
In North Park, owner Geraldine Ridaura has opened Holy Matcha, touted as San Diego's first matcha cafe at 3118 University Ave. The venue is devoted to matcha, a specialty green tea grown in Japan, and also sells matcha-infused pastries and snacks.
Escondido recently saw the opening of the city's third location of Costa Mesa-based chicken chain El Pollo Loco at 350 W. El Norte Pkwy. It is also the 32nd El Pollo Loco owned and operated by longtime locally based franchisee Chic Pollo LLC – led by Aaron Pingel and Angel Lara -- an affiliate of Peg/Lion LLC.