BIOTECHNOLOGY | CureMatch Gets New CEO at Launch Time
Originally published March 16, 2017 at 2:45 p.m., updated March 16, 2017 at 2:45 p.m.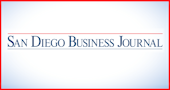 San Diego — Blaise Barrelet, an early investor in local software startup CureMatch Inc., has stepped in as CEO of the company as the startup launches its product and readies for another fundraising round.
Barrelet is taking the reins from former CEO Stephane Richard, who transitioned into the role of president and chief operations officer.
"As soon as we found out that we could start selling our product, Blaise decided to jump on the team to increase our bandwidth," Richard said in an email.
CureMatch has created a software platform that uses analytics to help doctors determine the best treatments (and latest combination therapies) for cancer patients.
Richard said the startup's software combs through millions of possible drug combinations, comparing a patient's genetic profile with data from clinical trials, scientific publications and other sources to find the best possible treatment regimens. With roughly 300 cancer drugs on the market, Richard said there are about 4.5 million possible treatment combinations.
Barrelet, the founder and managing partner of small, local tech fund Analytics Ventures, will help the company on its hunt for Series A investors. The startup previously received undisclosed seed funding from Analytics Ventures, Barrelet said, and has raised a total of just under $1 million since the company's inception.
Barrelet's takeover as CEO is about more than business, however. The 53-year-old executive was diagnosed with leukemia four years ago, and was told he only had five years to live. His experience in the health care system is what inspired him to co-found CureMatch, along with his other cancer tech company CureMetrix Inc.
"Lots of oncologists make money by selling chemotherapy," Barrelet said. "I call them chemo shops."
Barrelet said patients should have access to information that could help them get personalized treatment.
"When you know you have cancer and you know you're going to die, you ought to be able to know what the top research is and if you can benefit from it," Barrelet said.
Barrelet said he has used CureMatch's platform to design a treatment plan for his own leukemia.
The software is now up and running and ready for customers, according to the company. The company is primarily marketing directly to patients and caregivers to start. The hope is that these patients will introduce CureMatch's software to oncologists. Once the startup has raised its Series A round, the company will start marketing directly to oncologists, Barrelet said.
The startup now employs 13 people and has moved out of JLAB's incubator space into its own office in Sorrento Valley.
Cannabis Drug Maker Quadrupling Footprint in Carlsbad
Cannabis has so far been relegated to the supplement and medical marijuana industries, with no FDA-approved drug (derived from the plant) available on the market. But a pharmaceutical company in Carlsbad is hoping to change that and it is about to quadruple in size.
The company, called Greenwich Biosciences Inc., is the U.S. subsidiary of GW Pharmaceuticals Plc, a company based in the United Kingdom.
The company is in late-stage clinical trials for an investigational medicine called Epidiolex, a treatment for seizures associated with a rare and severe form of childhood-onset epilepsy called Lennox-Gastaut syndrome and Dravet Syndrome.
Not all cannabis products contain the psychoactive ingredient THC (tetrahydrocannabidinol). There are 100 different molecules found in cannabis, with THC and cannabidiol (CBD) being the most well-known. CBD lacks the psychotropic effects of THC.
The company's potential drug, Epidiolex, would be a CBD product, and it seems to be performing quite well in patients.
According to the company's latest trial results, patients who took Epidiolex daily saw a 42 percent drop in monthly seizures compared with a reduction of 17 percent in patients taking a placebo.
Greenwich BioSciences recently quadrupled its office space size, moving into a 21,000-square-foot space in Carlsbad. The company, which employs 25 people in Carlsbad, plans to increase its local workforce to 100 people within the next 12-18 months. Greenwich's new facility is set to hold about 125.
Although the parent company is based in the U.K., Greenwich is building out the company's commercial leadership and operations teams, medical affairs, clinical, regulatory, and corporate affairs here in Carlsbad, according to the company.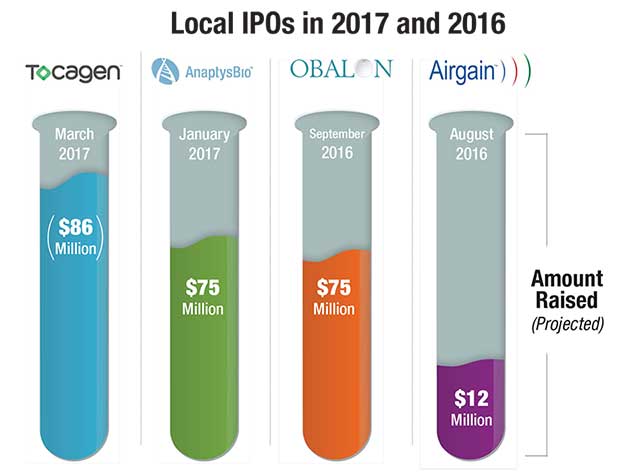 Tocagen Plans 2017's Largest Local IPO to Date at $86 Million
Local gene therapy company Tocagen Inc. plans to raise $86 million in an initial public offering, the largest IPO so far this year in San Diego.
Tocagen is developing a potential treatment for high-grade glioma, the most common form of brain cancer (and one that often requires multiple treatments). Gene therapies like the one Tocagen is developing are experimental treatments that transplant normal genes into cells to correct missing or defective ones. The hope is to create a lasting effect, though no gene therapies have yet been approved by the U.S. Food and Drug Administration.
Tocagen's public offering should give the company a significant runway of cash, as the company reported a cash balance of $31.2 million in December. To date, the local firm has raised $131.4 million in capital, mainly through private placement sales of convertible preferred stock.
Tocagen is San Diego's second biotech public offering so far this year. In January, AnaptysBio Inc. reported a $75 million IPO to develop antibody product candidates to treat inflammation.