San Diego County Credit Union Grew Assets, Membership in 2016
Tuesday, March 14, 2017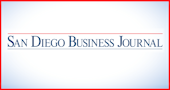 The county's largest locally owned financial institution, San Diego County Credit Union, grew its assets to $7.9 billion in 2016, increasing roughly 9 percent compared to $7.2 billion a year prior.
More than 31,000 members joined the credit union during the calendar year, bringing its customer total to 339,205, 10 percent more than the previous year, SDCCU said.
SDCCU's return on assets for the year was 1.41 percent, the credit union said.
The credit union's ratio of net worth to assets for 2016 was 13.91 percent, nearly double the 7 percent minimum capital level required for credit unions to be regarded as "well-capitalized" by the National Credit Union Administration, the agency that oversees federal credit unions.