San Diego, Tijuana Mayors Reaffirm Cross-Border Commitment
Monday, March 13, 2017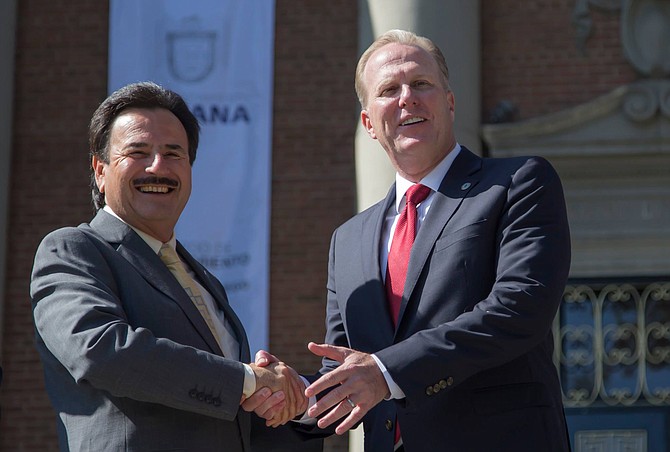 The new mayor of Tijuana is embracing his predecessor's agreement to strengthen cross-border collaboration between San Diego and Tijuana.
Back in 2014, TJ's former mayor, Jorge Astiazarán, signed a "memorandum of understanding" with Mayor Kevin Faulconer. As a result, department directors from both cities have met regularly to collaborate, resulting in several cross-border efforts including the joint promotion of the economic advantages the combined region has to offer.
The new political climate in the U.S. — and a new mayor elected in Tijuana — have bred uncertainty about whether that relationship would continue. But now, Mayor Juan Manuel Gastélum (elected Tijuana's mayor last summer) has renewed the commitment.
The two mayors' offices released a joint statement pledging to work together to strengthen economic and civic ties.
"San Diego and Tijuana set an example of how two cities can come together across international boundaries for the good of their citizens," Mayor Faulconer said. "Together, Mayor Gastélum and I will continue to work cooperatively and discuss the issues that matter to our residents such as economic development, border infrastructure, our cross-border culture and public safety. Going forward, it's important that we continue to have clear and open lines of communication and that is what this agreement will help us accomplish."
The pledge will likely invigorate San Diego's startup community, which has been vying for closer collaboration between San Diego and Tijuana in recent months.
Organizers of Startup Weekend attempted to organize the first cross-border weekend event for entrepreneurs in January, but the event was canceled last minute due to gasoline protests in Mexico.
In February, startup leaders from Tech Coast Angels, Startup San Diego, and other local organizations published an open letter expressing concerns about President Donald Trump's immigration ban and its potential impact on the startup economy.
Then in March, Startup San Diego announced it was appointing David Peguero, a startup community leader in Tijuana, to the organization's board of directors.
"This deepens our commitment to work across the border," said Austin Neudecker, co-founder of Startup San Diego. "Peguero sees the border as a frontier of opportunity rather than a division."