Qualcomm Gets Its ARM in the Door With Microsoft
Originally published March 9, 2017 at 2:07 p.m., updated March 9, 2017 at 2:07 p.m.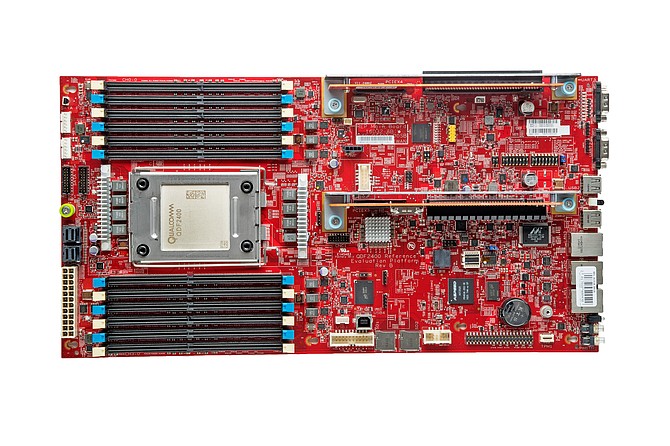 San Diego — Microsoft Corp. showed off a version of its Windows Server software for data centers running on hardware built with Qualcomm Inc.'s new Centriq chip.The companies displayed the technology during the Open Compute Project U.S. Summit March 8 in Silicon Valley.
One of Qualcomm (Nasdaq: QCOM)'s initiatives to broaden its business is to start building chips for data center servers. The company's Centriq 2400 chips are built with so-called ARM architecture, have an extra-thin 10-nanometer geometry and contain 48 cores.
Qualcomm said it has engineers working on site at Microsoft (Nasdaq: MSFT) "to collaboratively optimize a version of Windows Server, for Microsoft's internal use in its data centers, on Qualcomm Centriq 2400-based systems."
Qualcomm Previews Its 5G World Tour Plans
Qualcomm recently came out of a big telecommunications conference in Barcelona, Spain, offering more details about plans to deploy trial 5G wireless telecom networks in several areas of the world.
Fifth-generation wireless communications technology will help mobile devices transfer data much faster than today's 4G technology, and will keep interruptions to a minimum, making it appropriate for uses such as virtual reality and self-driving cars.
Trials in China with carrier China Mobile are set for the second half of 2017, as are trials in Australia with carrier Telstra. Qualcomm plans to test 5G networks in Japan with network partner NTT Docomo in the first half of 2018. Trials are also planned in the United Kingdom with carrier Vodafone.
Qualcomm is doing a lot of the research and development for 5G and stands to gain from licensing its patents for the technology.
Meanwhile at home, Verizon Communications Inc. (NYSE: VZ) plans to deploy several hundred cell sites to offer 5G wireless to networks serving residences and offices in 11 U.S. cities. That will be in the first half of 2017.
AirHop Teams With Reliance Jio for Big Results
AirHop Communications of San Diego said that its product is helping accelerate the deployment of Reliance Jio's new 4G Long Term Evolution wireless network in India. Talk about growth. Jio claims to be adding 600,000 customers a day throughout India, and to have gotten more than 100 million subscribers in 170 days. The carrier wants to deliver broadband to 1 billion subscribers.
AirHop is providing its eSON360 software suite, which lets wireless networks self-organize. "AirHop has been a great technology partner throughout our network launch where automation and self-healing were introduced to remove interference, offering higher spectral efficiency within the LTE network," said Mathew Oommen, president of Reliance Jio, in a prepared statement.
AirHop is privately held. Yan Hui is its CEO.
UCSD Makes Contribution to 5G Technology
The University of California, San Diego has announced its own addition to 5G. The university's Jacobs School of Engineering collaborated with Orange County chip-maker TowerJazz to create chips that transmit data at 12 gigabits per second (that's fast) when separated by 30 meters (about 100 feet). Peak wireless data rates using commonly available 4G cell phones is 1 gigabit per second. Graduate student Kerim Kibaroglu and postdoctoral fellow Mustafa Sayginer led the design team, which was overseen by UC San Diego professor Gabriel Rebeiz.
IHS Markit estimates that the 5G value chain will generate $3.5 trillion in output, and support 22 million jobs, in 2035.
Emerging Cybersecurity Cos. Get Seat at Grownup Table
Executives with ViaSat Inc. will meet up with emerging cybersecurity companies in early April to talk about potential partnerships. The meetings are the latest through the EvoNexus MarketLink program, which has also brought Huawai, LG, Samsung and Sony executives to meet with young companies. Perhaps better known for offering satellite services and satellite electronics, Carlsbad-based ViaSat (Nasdaq: VSAT) also secures its own networks, provides cybersecurity to organizations and governments of all sizes, and offers encryption products. EvoNexus is a startup incubator that does not require participating companies to give up equity.