EAST VILLAGE 'BONES' MAKE IT 'WHOLE DIFFERENT ANIMAL'
Factors That Formed Little Italy Hard To Duplicate
Originally published March 9, 2017 at 2:43 p.m., updated March 9, 2017 at 2:43 p.m.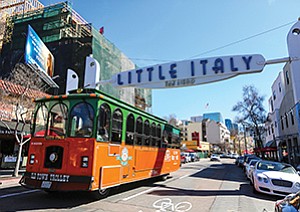 San Diego — Phenomenal growth. Gentrification. A line of tourists riding Segway scooters. Those are three things that show how Little Italy has become a runaway redevelopment success story.
The San Diego neighborhood — which was small houses, auto shops and industrial buildings during the 1980s — has turned into a district of little restaurants, high-end retailers and scarce parking. Plenty of older structures remain, but empty lots have become multistory apartment buildings and condominiums that command high prices.
The district has seen more growth in the last 10 years than in its 100-year history, said Little Italy native Marco Li Mandri. The Kensington resident is manager of the Little Italy Association, which represents local businesses, and president of New City America Inc., a consulting firm specializing in business district revitalization.
Li Mandri said neighborhood control and managing neighborhood services "at ground level" have contributed much to Little Italy's success.
The district takes care to welcome shoppers by providing mall-like amenities such as plenty of seating outside, Li Mandri said. And it keeps things clean. "We have more trash cans than the rest of downtown combined."Little Italy has benefited from good leadership (including Li Mandri's) and "thoughtful place making," said David Malmuth, who is developing buildings in East Village's IDEA District. "They kept the scale comfortable" and stressed quality in their infill projects, he said.
Rooted in History
Little Italy wasn't always the trendy place to live and shop. In the 1980s and 1990s, "we were the parking lot for downtown San Diego," said Li Mandri.
"No one necessarily wanted to live in Little Italy," said Luke Vinci, secretary to the Little Italy Association, recalling the three-lane streets that ran through the neighborhood.
Prior to its makeover, the neighborhood and city hall had to lay a foundation for something new. Little Italy had 100-year-old sidewalks, no streetlights and "huge problems" with its water supply in the 1990s, Li Mandri recalled. The city tore up streets to repair utilities as that decade progressed.
All the while, the neighborhood clung to its roots. For decades, San Diego's Italian community worked in San Diego's tuna fishing industry. Vinci credits the longtime pastor of Our Lady of the Rosary Catholic Church, the Rev. Steven Grancini, for his help founding a neighborhood association and bringing in culture. A 2011 obituary from The San Diego Union-Tribune noted Grancini was active in Little Italy's civic life as well as religious activities. Left unsaid is whether the Milan native felt homesick. The parish continues to be "a pivot of the community," said Vinci.
Little Italy has benefited from an established culture as well as a great location, close to the Embarcadero, the airport and the downtown core, said Bastiaan Bouma, CEO of the local American Institute of Architects chapter and a relative newcomer.
The district is remarkable for the diversity of its buildings, which are "far from being cookie-cutter" copies of the others, Bouma said. In the days of redevelopment agencies, the old Centre City Development Corp. overhauled properties. Creative redevelopment turned heads, particularly a late-1990s effort that divvied up one city block and asked multiple architects to each design something special. Contributions from architects such as Rob Quigley were not exactly conventional.
Over time, districts in the vicinity of a few India Street restaurants, the Catholic church and Washington Elementary School started to rebuild. Soon Little Italy had "an unbelievable ability to attract capital," Li Mandri recalled.
Development continues today. H.G. Fenton Co. of Mission Valley is building 125 apartments and ground-floor retail spaces in two buildings on either side of Date Street at India Street. A short section of Date, which was closed periodically to accommodate a farmers market, has been permanently closed to create Piazza della Famiglia, billed as a 10,000-square-foot, Europe-inspired pedestrian plaza, complete with a fountain. A developer representative said the projects should be finished by summer.
Perhaps a Template?
Could architects, planners and people with political power use Little Italy as a model to develop other neighborhoods, such as East Village? The answer is yes and no.
Li Mandri makes a living helping communities gain more local control from their city governments and form small assessment districts to fund neighborhood services. He said he sees the Little Italy model working in other places such as San Leandro, in the East San Francisco Bay region, and Glendale.
Mark Steele, who has an architecture and planning practice in Barrio Logan, stressed that when it comes to the built environment, it comes down to what's already in the neighborhood. Little Italy has an authenticity; narrow, walkable streets such as India and Kettner; charm and a certain funky quality, Steele said. It is welcoming, cozy and small-scale.
East Village's streets, blocks, buildings and planned developments are larger, he said — more akin to downtown's Marina District, on the waterfront south of F Street. East Village is "a whole different animal because of the bones."