EDC Study: SoccerCity Would Generate $2.8B Annual Regional Impact
Thursday, March 9, 2017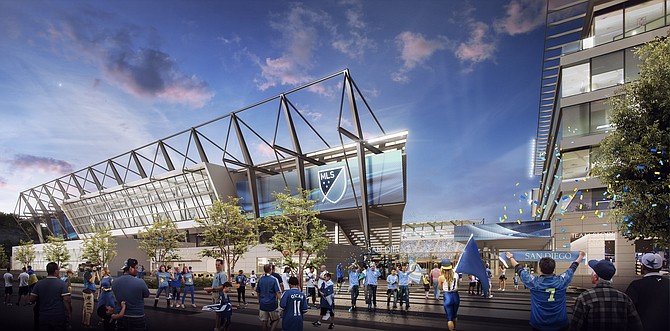 The mixed-use SoccerCity SD proposed for Mission Valley would have a $2.8 billion annual regional economic impact and generate more than 25,000 jobs, according to an independent analysis done by consulting firm AECOM for the San Diego Regional Economic Development Corp.
EDC officials said the concept put forward by a team led by FS Investors, to replace Qualcomm Stadium with multiple components including a 30,000-seat soccer stadium, would create 41,720 jobs during construction and 25,750 jobs when it's in operation.
The AECOM study concluded that the economic impact would also include $1.98 billion in local wages when it is up and running. It would generate another $2.4 billion in wages during construction.
EDC President and CEO Mark Cafferty said the agency and AECOM conservatively calculated the project's economic impacts.
"A project of this size presents strong economic opportunities for our region," Cafferty said in an EDC statement. "Our hope is that the data we have compiled will help better inform our public dialogue in the weeks ahead."
Officials said projections were based on factors including construction costs, anticipated employment, residential value and stadium activity. Further details on fiscal impacts of SoccerCity will be released at a later date.
In addition to a soccer stadium, plans for SoccerCity SD include approximately 5,000 residential units, more than 2 million square feet of office space, 740,000 square feet of retail and 55 acres of parks and open space.
The developers are seeking to partner on the stadium and possibly other elements with San Diego State University, which has not yet decided on its participation. SoccerCity SD proponents will soon be gathering voter signatures for an initiative proposal that would place the project before San Diego City Council.
City Council would have the option of approving the project directly or placing it before voters in a future election. The developers have applied to Major League Soccer to bring a team to San Diego, but have said the league needs assurances that an approved stadium can be ready for play by March 2020.
The EDC report's release on March 9 came as the San Diego chapter of the American Institute of Architects (AIA) called on city officials to appoint a citizen advisory commission to develop a long-term, comprehensive vision for the 166-acre Mission Valley site. A similar, mayoral-appointed citizen panel reviewed options for an NFL-centric project at the site two years ago, before the San Diego Chargers' recent departure for Los Angeles.
The architects group also wants the city to conduct a competitive proposal submission process to consider multiple options, including the soccer-centric project.