Wrapify Picks Up $3 Million in Venture Capital
Wednesday, March 8, 2017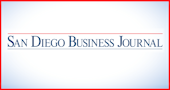 Local startup Wrapify has raised $3 million in a new venture capital round, the company announced Wednesday.
Wrapify, which started out at tech incubator EvoNexus, pays people to wrap their cars in marketing messaging. The local startup uses proprietary technology to track vehicles in real-time for their clients, giving companies insights on when and where their ads travel. Wrapify also has a mobile app to make it easy for drivers to sign up.
The new infusion of cash comes from Avery Dennison, a global manufacturer of adhesive materials.
Avery Dennison and Wrapify have been working together to develop a vehicle-wrapping adhesive that's suited for Wrapify's particular needs: wraps with fast installability and removability. The local startup already uses Avery Dennison's adhesive on all of its cars.
"We're impressed by its concept, its product, its team, and its significant success in less than two years," Bill Podojil, an Avery Dennison executive, said in a statement. "We see this as a great opportunity to extend our leadership in car wrapping."
Wrapify, which has raised a total of $6.1 million since its 2015 inception, will use the money to expand its sales team, as well as its technology and operations teams, said the startup's CEO, James Heller.
"Our goal for Wrapify is to reach the top 50 U.S. cities by end of year, and Avery Dennison's investment will spur that," Heller said.
Wrapify is currently live in 29 cities in the U.S., with 42,000 drivers signed up on its program.