Cubic Corp. Introduces Fold-Up Satellite Antenna
Tuesday, March 7, 2017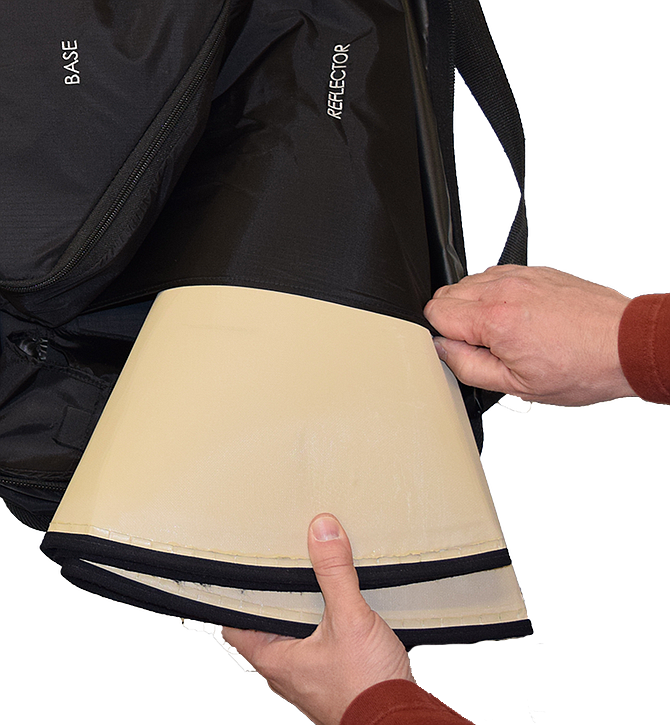 Cubic Corp. rolled out two new products in its GATR Technologies military satellite line on March 7.
A new antenna called GATR-Flex is unlike the rest of the GATR product line because it does not resemble a beach ball and it doesn't inflate. The 0.75-meter (2.5 foot) satellite dish — made of a composite material that feels like a heavy piece of fabric — folds up for storage and then snaps back to its parabolic shape for use.
While handling a folded satellite dish, you feel as if the material wants to go back into shape, said Victor Vega of GATR's sales team.
Also introduced at the Satellite 2017 convention in Washington, D.C. was the new GATR 950 modem.
Product designers made it a point to minimize size, weight and power, or SWAP, Cubic officials said, adding that the antenna can be carry-on luggage in a commercial aircraft.
It took Cubic about 18 months to go from initial concept to product launch, said Vega. He added that Cubic tested a few prototypes with the U.S. Special Operations Command.
GATR stands for ground antenna transmit and receive. Cubic (NYSE: CUB) bought Huntsville, Ala.-based GATR Technologies for $233 million in early 2016. Cubic's Mission Solutions unit takes the communications equipment to market.
Cubic Corp., based in San Diego's Kearny Mesa neighborhood, is a $1.5 billion corporation that splits its business between defense contracting and mass-transit technology. It offers both products and services.