Accion Loaned More Than $3.5 Million in 2016
Monday, March 6, 2017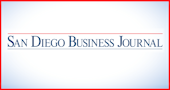 San Diego-based microlender Accion loaned more than $3.5 million to entrepreneurs in Southern California in 2016, the organization announced Monday.
The nonprofit, which offers term loans of up to $75,000, gave 248 loans to businesses in San Diego, Imperial, Riverside and San Bernardino counties during the year, it said. Loan size increased nearly 37 percent, from about $10,400 in 2015 to $14,200 in 2016.
San Diego business owners received 183 of the loans Accion made in 2016, totaling $2.4 million, the organization said.
During the year, Accion passed the $30 million marker in total funds loaned since its inception 22 years ago. In total, the organization has given nearly 4,000 loans to more than 3,500 clients.
Accion also received its largest single contribution in 2016, a $1 million grant from the U.S. Department of the Treasury's Community Development Financial Institutions Fund, earmarked for deployment as loan capital in San Diego and Imperial counties.