Software Co. Raken Raises $2 Million in Seed Round
Sunday, March 5, 2017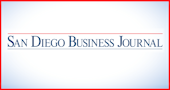 Raken, a San Diego-based company whose software is used for construction site reporting, has raised a $2 million seed round, the company announced March 3.
Santa Barbara-based investment group Rincon Venture Partners led the round, with participation from New York-based, mobile-focused Eniac Ventures and San Francisco-based Spider Capital.
According to Raken, its mobile and web platforms are used by more than 2,500 customers, including superintendents, job foremen, project managers and project engineers, in 13 countries.
"We partnered with three of the top seed investors in the country within the business-to-business and mobile space," said co-founder Sergey Sundukovskiy, the company's chief technology and product officer. "The investment will help Raken accelerate product development to meet rapid customer growth."
CEO Kyle Slager, who founded the company in 2013, said the funds will allow Raken to improve popular features, add others and hire more employees.
"Technology within the construction industry is antiquated, and investment in tech has lagged other industries by a wide margin, but we are seeing that dynamic quickly changing," Slager said. "Companies investing in mobile solutions to everyday workflows are more profitable, and that message is spreading through the industry."