TECH: CO. STRESSES R&D TO COMPETE IN TELEMATICS RACE
SmartDrive's Roadwork Makes Its System a Contender
Originally published March 2, 2017 at 1:52 p.m., updated March 2, 2017 at 1:52 p.m.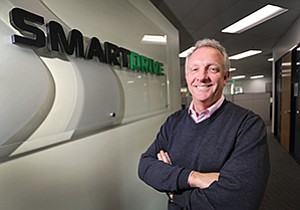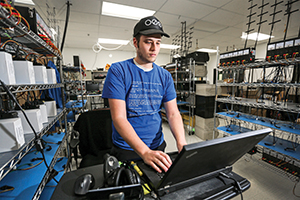 San Diego — If there is a moral to SmartDrive Systems Inc.'s remarkable growth streak, it's that it pays to keep moving.
SmartDrive makes a system that combines video, a telecommunications link and predictive analytics. The system keeps an eye on truck drivers and the conditions they face in an unfriendly world. It can catch drivers engaged in risky behavior and exonerate a driver in the event of an accident.
As the years pass, sensors on the company's core technology gather more information. Systems crunch more data. Customers ask for new functionality — even uses that company leaders had not imagined.
It has all added up to more revenue.
High Growth
The privately held business claims 400 percent growth over the past three years. As for the last year? "We doubled," CEO Steve Mitgang said.
Mitgang declined to give an actual number, but revenue at SmartDrive appears to be in the tens of millions of dollars. The business employs 594 people globally. SmartDrive's 2014 revenue was $17.6 million and 2015 revenue was $22.7 million.
Mitgang said the company designed its hardware for expansion — for uses that SmartDrive executives had not envisioned when they first put it on the market.
"We didn't want this to be irrelevant the day we launched it," the CEO said, showing off a 7-year-old hardware design that connects to cameras in a truck or train cab. SmartDrive designs hardware in the U.S. and manufactures it in China.
Choosing R&D Spending
For now, SmartDrive is not making a profit. Rather, it is plowing proceeds from its growth into research and development. Mitgang said it is a choice.
The business is getting ready to burst out of its Miramar-area space of 25,000 square feet. SmartDrive expects to hire 65 people before the year is over, and is in final negotiations for 50,000 square feet of new space. The move will help many company operations, including order fulfillment. SmartDrive has two warehouses about a mile apart.
Shipping 500 units used to mean it was a big month, said Luis Villaverde, senior director for supply chain, who has been with the company for almost three years. Today, he said, 2,000 units is a slow month.
S.D. a Center of Excellence
San Diego seems to have built a local industry on so-called "telematics" companies for fleet managers. Privately held Lytx Inc. runs the DriveCam service, and claims 33 consecutive quarters of double-digit growth (it also does not report revenue). A Chicago private equity firm bought a majority stake in Lytx for $550 million in the first quarter of 2016. (SmartDrive's Mitgang said there is "no shared DNA" between SmartDrive and Lytx.)
Netradyne, with offices in San Diego and India, is a new player. It has added an artificial intelligence component to fleet monitoring.
Many vendors offer G-force sensors that detect hard turns or hard braking. San Diego-based Accuscore offers analysis of G-force data collected by third-party sensors. It assigns two scores to drivers, ranking aggressiveness and distraction.
It might be argued that Inseego Corp. — the Sorrento Mesa-based company formerly known as Novatel Wireless — fits in the telematics group as well, since it recently bought a South African video telematics firm called Ctrack.
Why the concentration of telematics in San Diego? Mitgang pointed to the influence of Qualcomm Inc., which offered a truck-tracking tool, Omnitracs, early in its history. Qualcomm (Nasdaq: QCOM) sold Omnitracs for $800 million in 2013 and the business has since moved to Texas. San Diego also has a business called Networkcar, later Networkfleet, which has had several owners and is now part of Verizon.
Separately, Mitgang said that San Diego has supported companies deep into analytics, naming HNC Software as a pioneering company.
"It's pretty common to see industry cores emerge from certain geographies," said Kara Kerker, executive vice president and chief marketing officer at Lytx. "Think about Portland and athletic shoes: it started with Nike and now there's Adidas US, Keen and Columbia, and footwear design operations from Under Armour and half a dozen others. When one company proves successful, it begets others who often want to draw from the same talent pool, and as a result, a center of excellence emerges."
Kerker said her firm and Qualcomm were historical leaders in the telematics space.
Video Need
Investors still seem to be enamored with telematics. In some news from outside of San Diego, Verizon (NYSE: VZ) bought Ireland-based Fleetmatics Group PLC for $2.4 billion in August. Fleetmatics offers a GPS vehicle tracking system that helps customers know where their assets are, keeps an eye on speed and mileage and saves fuel. There is apparently no video component, but there is a lot of business. The system is on 826,000 vehicles run by 42,000 customers.
In the last 18 months, SmartDrive's Mitgang said, customers have realized that they need video. Instead of asking whether they even need video, the CEO said, their question is whose solution they need.
He'll make a powerful argument that SmartDrive's is the best.
SmartDrive says it packages video analysis, predictive analytics and personalized performance services to improve driver skills and lower operating costs. Customers include Golden State Foods, Knight Transportation, Loomis, Waxie Sanitary Supply and transit operator LA Metro. SmartDrive officials said their customer retention rate is 98 percent, while their competitors see plenty of churn.
Company technology can detect a risky incident (a quick stop, for example) and send 10 seconds of video before and after that incident to a SmartDrive employee for review. One SmartDrive official likened the clips to "game film" from an athletic event. Trucking company officials can use that incident to coach a driver to do better.
By tracking driver behavior, SmartDrive can also generate a score that can be a predictor of risk in the future. Part of SmartDrive's service is boiling down performance to a number — called a key performance indicator or KPI — that management can use to quickly rate a driver.
It's not uncommon for truck lines to have 100 percent turnover in drivers in a single year, so the technology and analytics can help management keep track of which driver is worth retaining and which may be headed for trouble.