TECH: MODELS ARE FAST LEARNERS, KEEP UP WITH DATA
Co. Uses AI to Stay Ahead of Loan Fraud
Originally published March 2, 2017 at 1:57 p.m., updated March 2, 2017 at 1:57 p.m.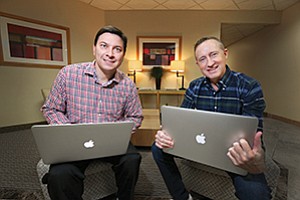 San Diego — Outstanding auto loans in the United States last year topped a record $1 trillion.
San Diego startup PointPredictive Inc. aims to help auto lenders keep more of the revenue they expect to earn from those loans by identifying potentially fraudulent applications before automobiles leave dealers' lots.
The predictive analytics company, founded in 2014 by CEO Tim Grace, chief fraud strategist Frank McKenna and head of strategic alliances Joe Jackson, sorts through vast amounts of data from lenders to determine which applications have signs of fraud. Using machine learning techniques — a branch of artificial intelligence — the company's models adapt over time as more data is gathered and analyzed.
Today, the company says it works with five of the top 10 and 17 of the top 30 U.S. auto lenders, as ranked by the number of applications they receive. The companies share historical data with PointPredictive, which uses the information to teach its software to recognize signs of potential misdoings by loan applicants or dealers.
"You hit one spot and they pop up somewhere else. If you cover one gap, they're going to cheat a new way," McKenna said. "That's why they need models that can learn the new patterns."
Neural Networks
San Diego is a hotbed for predictive analytics talent thanks to the company to which PointPredictive traces its roots. Hecht-Nielsen Neurocomputer Corp., later HNC Software, was launched in 1986 by University of California, San Diego professor Robert Hecht-Nielsen.
HNC developed software that used neural networks — computer systems inspired by the human brain — to help spot fraudulent credit card transactions. Grace and McKenna were among its employees. Another HNC alum, Greg Gancarz, is PointPredictive's head of analytics and scoring.
In 2002, HNC was snapped up by Fair Isaac Co. (the company behind FICO credit scores) for $810 million.
In 2004, Grace and McKenna teamed up to start predictive analytics firm BasePoint Analytics LLC, where they, with co-founder Jim Baker, used risk and pattern recognition technologies to target fraud and manage risk in the banking and mortgage industries. First American CoreLogic, a subsidiary of real estate services conglomerate First American Corp., acquired a minority interest in BasePoint in 2005 and acquired the firm in 2009. (First American Corp. and CoreLogic split the following year.)
Dissecting the Data
Like they did at BasePoint, Grace and McKenna's team at PointPredictive builds models for companies looking to reduce instances of fraud based on historical data aggregated from firms that have agreed to be part of a collaborative consortium.
That data "teaches" the models to recognize elements of loan applications that have a high likelihood of being fraudulent, and as customers use PointPredictive's software, the models use the new data to improve their accuracy.
Last year, the firm tested historical loan data from lenders and found that if their pattern recognition models had been used when those loans were being processed, lenders could have cut their losses in half, the company said.
Garient Evans is vice president of client services at ID Analytics Inc., another San Diego-grown predictive analytics firm. ID Analytics, which was acquired in 2012 by Tempe, Ariz.-based LifeLock Inc., uses algorithms to identify potential identity fraud in credit applications.
Evans said the analytics sector, while historically robust in San Diego, has taken off in recent years as hackers have become wilier and those trying to thwart them have benefited from increasing computing power.
"The ability to do things using raw data is improving and increasing, so in the past you may have been able to collect a lot of data but the ability to tap into that and use it to drive business decisions in a better way really arose in the last five to 10 years," he said.
PointPredictive estimates auto fraud will cost lenders and banks between $4 billion and $6 billion this year — double the company's estimate of auto fraud in 2015 of $2 to $3 billion.
Avenues of Fraud
Three main avenues of fraud facing lenders are payment default, in which borrowers misrepresent themselves on applications without ever intending to make a payment; known fraud and misrepresentation, such as when a straw buyer helps an unqualified borrower get a loan; and dealer fraud.
"As a lender, if I can solve those three separate issues, I can manage my risk better and be more profitable," McKenna said. "That's the problem we're trying to solve."
Analysis done by PointPredictive suggests 40 percent to 70 percent of those early-payment defaulters misrepresented some element in their application, the company said.
When it comes to dealerships, most are on the up and up; a few bad actors are the source of nearly all of some lenders' loan losses, McKenna said.
"If they don't know which 3 percent are the bad dealers, they have to treat them all the same," he said. "We don't think they should have to do that. We want to point them to the bad ones."
Companies that work with PointPredictive get a trio of fraud scores with each application rating the likelihood of that type of fraud taking places; scores come with up to three reasons that can help identify the risk and how to mitigate it.
'Delinquency Losses Rising'
The PointPredictive team believes the impact of auto fraud on lenders is rising — and fast.
"In the last quarter of 2016, uncollectible auto loans soared to over $1.1 billion and delinquencies on subprime loans hit their highest level since the worst recession in U.S. history," the company said in a whitepaper published earlier this year. "With auto lending levels soaring to historical highs and delinquency losses rising dramatically, many lenders have a heightened sensitivity to fraud and its impact on their bottom line."
Of course, they are not the only firm offering predictive analytics services to companies looking to mine massive amounts of data for business insights.
However, McKenna said PointPredictive sets itself apart from the competition by having better data, thanks to the consortium they have established, and its management team's expertise in fraud detection.
And though it may seem counterintuitive, the company's compact size has also been a benefit, McKenna said.
"Lenders and banks typically have a preference for smaller companies, believe it or not, because smaller companies are more innovative and responsive than the big guys," he said. "We can launch model updates in a day, where it might take bigger company 18 months to do the same thing."
POINTPREDICTIVE INC.
Founded: 2014
Headquarters: San Diego
CEO: Tim Grace
Revenue: Would not disclose
No. of local employees: 5
Description: Predictive analytics firm that aims to stop fraud or reduce risk exposure in automotive, mortgage and retail lending.