JLab Audio Moves to Larger Facility in Carlsbad
Wednesday, March 1, 2017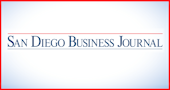 JLab Audio — a producer of personal audio products including Bluetooth earbuds, headphones and speakers — has moved to a 15,000-square-foot facility on Las Palmas Drive in Carlsbad, the company announced Feb. 28. The new office is four times larger than the facility it left in Oceanside.
JLab has 18 employees in Carlsbad, as well as a finance team in Texas. Its head count grew 25 percent in 2016.
The company reported $28.7 million in revenue in 2015 and grew 256 percent over three years, according to the Inc. 5000 list, which ranks JLab as No. 1491.